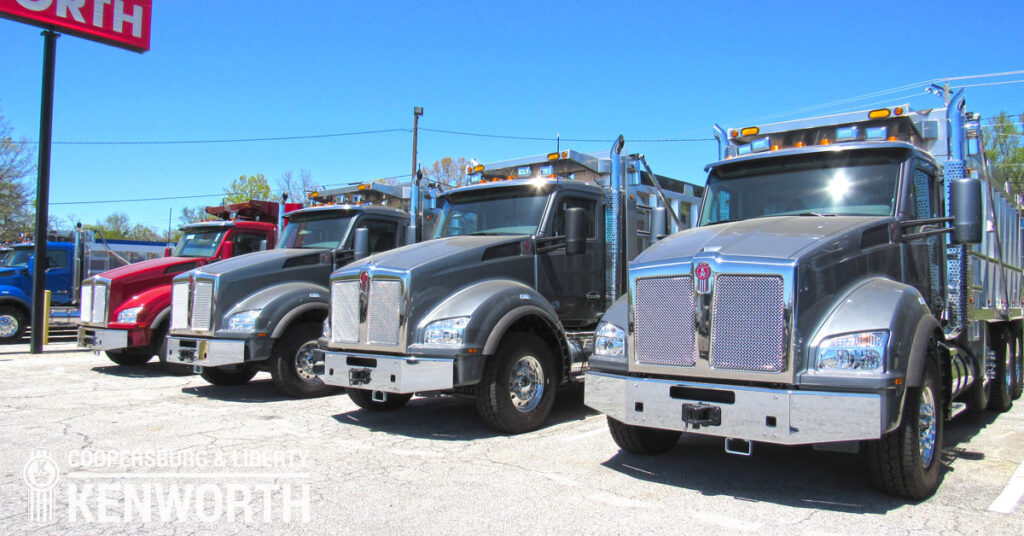 From municipalities, construction sites to home improvement, dump trucks are one of the most useful and versatile working trucks in a fleet.  Whether a project needs materials hauled in, or waste hauled away, chances are that it's a form of dump truck that will be doing much of the hauling.
No matter your needs, Coopersburg & Liberty Kenworth should be your first thought when it comes to Kenworth dump trucks for sale in Pennsylvania and New Jersey.  We're trusted by thousands of drivers and organizations of all sizes, and we're proud to live up to the reputation we've earned every time.
Dump Trucks for Sale and Done Better
A Vast Assortment
Between our two lots in Coopersburg, PA and Swedesboro, NJ, we have forty acres of trucks for sale, including dozens of Kenworth dump trucks in a wide variety of configurations.  We have options which are perfect for any size job, large or small.  
Years of Experience
We aren't newcomers to the truck sale industry.  We opened our first lot in 1980, giving us over three decades' experience bringing the world's best trucks to the northeastern seaboard.  Our staff is packed with highly trained experts who are enthusiastic about their jobs and will ensure you find the perfect dump truck.
Both Used and New Models
Coopersburg & Liberty Kenworth isn't only a new truck lot.  We carry a variety of used dump trucks from all makes and models, allowing you to vastly lower your expenditures when expanding your fleet.   
We Accept Trade-Ins
Is it time to upgrade the fleet?  Coopersburg & Liberty Kenworth offers competitive trade-in prices on used equipment as long as it's still running.  This is another excellent way to improve the quality of your dump truck fleet without breaking your budget.
All The Customization You Want
Coopersburg & Liberty Kenworth features a full service center, along with a vast parts and accessories shop.  No matter what extra touches you need to ensure the truck is right for the job, or to add extra luxury/convenience for your drivers, we're here to serve.  
Full Financing Available
Not paying in cash?  Not a problem!  In fact, 70 percent of our clients utilize financing to pay for their vehicles.  We offer attractive interest rates and reasonable extended payment plans to qualified buyers, allowing operations to afford the best in Kenworth dump trucks.
Shop Coopersburg & Liberty Kenworth
There's a reason Coopersburg & Liberty Kenworth is so well-known and well-trusted by municipalities, industry, construction crews, and independent owner-operators throughout the northeast.  We offer the world's best trucks, backed by some of the world's best service.  Contact us today – our stock changes daily!