Coopersburg Kenworth Service Center Recognized for Service Excellence
2018 marked a milestone year for the Coopersburg Kenworth Service Center. Kenworth recognized the dealership as one of the top ten dealerships in the country.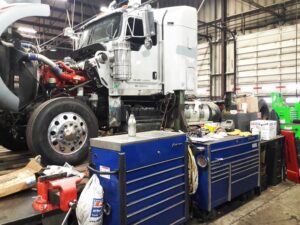 Coopersburg Kenworth Service Manager Joe Held attributes their success to both employees and customers. "Our team here at Coopersburg Kenworth is like a family. We rely on each other, learn from each other, and grow as a team. Our customers depend on us. We always make a point of earning their trust every time they're here. More than anything, we aim to help customers keep their equipment safe. And we get them back on the road as quickly as possible."
Drivers rely on dependable transportation. In fact, they demand it. That in mind, Coopersburg Kenworth knows commercial trucks call for nothing less than expert service. Coopersburg Kenworth relies on a team of experts of the trade to work on any trucks that arrive at the dealership.
About Coopersburg Kenworth Service
Services include major and minor repairs and factory recall repairs. Preventative and seasonal maintenance is offered as well. Additionally, a free call-in service is offered for customers seeking information about factory warranty campaigns. Customers can call their Kenworth service center and get a factory warranty campaign report. All that's needed is the last six digits of the vehicle's V.I.N. number.
The World's Best trucks deserve the world's best service. Both dealerships have Cummins-Certified and Paccar-Certified Technicians on-hand. Coopersburg Kenworth is equipped to perform three-axle alignments on Class 8 trucks. Engine services include in-frame rebuilds. Leading brands, such as Caterpillar, Cummins, and Paccar are welcome. Other areas of expertise include transmission rebuilds and no-idle HVAC system installs. Plus, Coopersburg Kenworth offers exhaust and emission after treatment system maintenance.
In addition to all these services, customers receive fast turnaround times and competitive pricing. Not to mention, friendly customer  service. So, it's no surprise customers return, time and time again.
Find Us
Both locations are easily accessible from major highways. The Coopersburg location is less than nine miles south of Allentown, PA. Swedesboro's location is just minutes from Philadelphia, PA and Wilmington, Delaware. Contact the Coopersburg Service team today to schedule your next appointment.