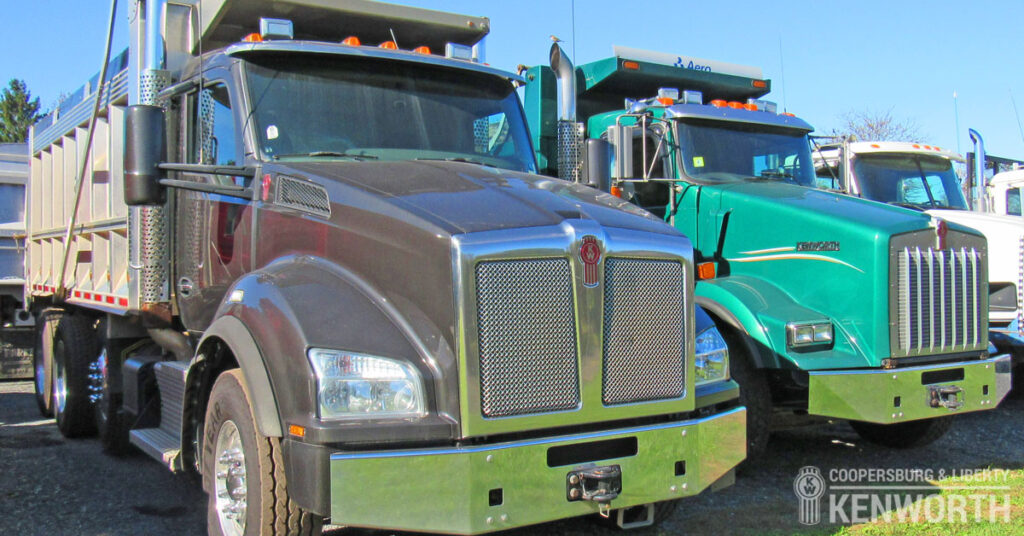 October 20, 2017 – Coopersburg, PA – Dump trucks are one of the best all-around investments any working fleet can make, thanks to their versatility, ruggedness, and go-anywhere hauling capabilities.  Coopersburg & Liberty Kenworth are currently offering great deals on used Kenworth dump trucks, along with those from other brands as well.
Just some of the priced-to-move selections currently available from Coopersburg & Liberty Kenworth include:
2015 Kenworth T800:  T800s are among the workhorses of the Kenworth lineup, and their dump truck variation is no exception.  This low-mileage dumper is lightly used and includes a high-powered PACCAR MX-13 engine for superior hauling ability.
2015 Kenworth W900:  The W900 is a legendary truck with good reason, capable of tackling the most difficult jobs with ease.  This 2015 model has less than 250,000 miles making it a superior alternative to buying new!
2017 Kenworth T880:  One of the current stars of the Coopersburg & Liberty lot, this barely-used dump truck has only a little over thirty thousand miles.  It still carries its manufacturer's warranty, and could be an excellent purchase for any fleet looking to invest in "The World's Best" at a significantly discounted price.
Used Kenworth dump trucks sell quickly, so stock is always fluctuating.  Coopersburg & Liberty Kenworth recommends interested buyers call, or visit in person, to see the latest deals for themselves.
About Coopersburg & Liberty Kenworth
With two locations – in Coopersburg, PA and Swedesboro, NJ – Coopersburg & Liberty Kenworth provides top-quality truck sales, service, items, and upgrades that draw in customers from all over the northeast.  Their huge lots contain a range of both new and used vehicles, from Kenworth as well as other brands.  They stock plenty of specialty vehicles too, including dump trucks, fire trucks, tankers, and more.  Drivers and fleet managers know that when they come to Coopersburg & Liberty Kenworth, they'll be getting top-caliber service and deals.
For more information or press inquiries, contact 1.866.306.5552 (PA) or 1.866.306.5553 (NJ), or visit https://www.coopskw.com.