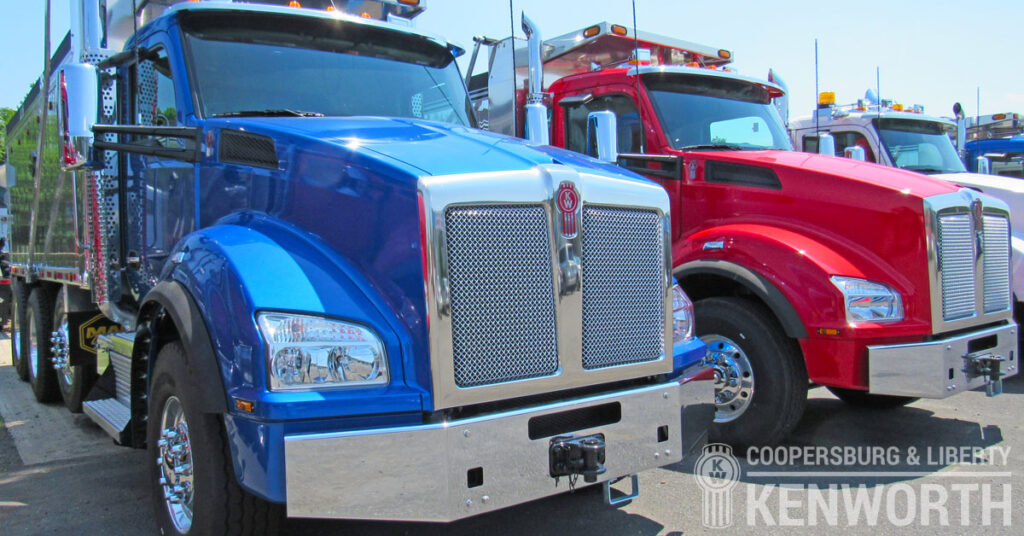 In running a construction company, it's important to know the value of the latest Kenworth dump trucks for sale and to determine which vehicle best fits your unique operational needs. Our team at Coopersburg & Liberty Kenworth has significant experience in this area of the marketplace, and within this latest post we're highlighting two of our leading models of tri-axle vehicles, the W900 and the T880.
The W900 Supports Vehicle Performance and Driver Comfort
A leading model for many decades in the Kenworth line, the W900 is designed for both the highest levels of power and driver comfort. The cabin includes Fully Adjustable Air Cushion Premium Plus seats for the ultimate level of relaxation on the road while the vehicle manages 38 degrees of wheel cut, providing the highest levels of performance within challenging trucking projects. The vehicle is also built for the highest levels of reliability, with the wiring for the system and the plumbing for the cab bundled together and mounted high into the frame of the vehicle. This helps reduce vehicle maintenance costs over the long-term.
The T880 Drives Productivity
Our trusted team will help you choose the best Kenworth T880 dump truck for you. With over 30 years of knowledge and expertise on a broad inventory with great flexibility,  we guarantee to meet the needs of your trucking company. The product's tri-axle design offers significant additional weight capability and maintains flexibility and power in one high performance system. Each element of the vehicle has been honed for the ideal driver experience. For example, the interior of the cab features controls are easy to reach from the driver's seat and a comfortable-to-use clutch for ideal comfortable performance on long duration trips.
Making the right choice can help your organization achieve a lasting return on its investment built upon the leading Kenworth dump trucks for sale. Our team at Coopersburg & Liberty Kenworth is here to guide you on the complete range of vehicles available on the modern marketplace. To learn more on the options and the benefits each can bring to your operations, call our trusted team today!