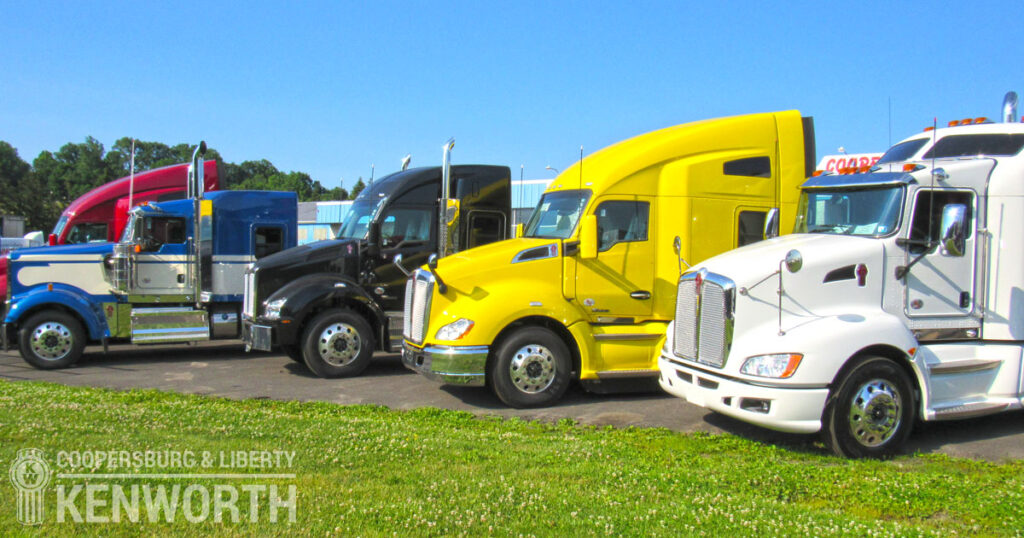 No matter your needs, from local haulage to cross-country jobs, Coopersburg & Liberty Kenworth has a full lineup of Kenworth Trucks for sale, ready to drive off the lot and into your service.
As one of the premiere official Kenworth dealers in the northeast, and with two full lots, Coopersburg & Liberty Kenworth provides 'The World's Best' in Kenworth trucks for sale, at affordable prices and backed by a full service repair shop and plenty of options in accessories.  
No matter the Class, we have it, including:
Kenworth T880:  Our most popular vehicle is also one of the top options for organizations needing an all-purpose hauler backed by plenty of horsepower to take loads wherever they need to go.  The T880 is world-famous for its longevity, power, and the vast array of comforts provided to make drivers' lives easier.
Kenworth T680:  When cutting costs is your goal, the T680 is what you need.  The T680 is the most aerodynamic and fuel-efficient option in Class-8 trucks on the market, packed full of features designed to lower weight and fuel use in every possible way.  This sleek and stylish truck looks great on the road, and on paper.
Kenworth W900:  The legendary W900 continues to be the ultimate in go-anywhere, do-anything heavy duty hauler.   With plenty of options in cab sizes, including the luxurious 86-inch Studio Aero Cab sleeper, you'll have trouble convincing your drivers to go home even when they're off-duty!
:  If your loads are mostly local or in-state, and you need a balance between the costs of a Class 8 truck and the fuel efficiency of smaller mid-size models, the Class 7 T440 hits that sweet spot. The T440 has nearly the power and capacity of a Class 8, while bringing substantial cost savings across the board.
:  It might be the smallest of the Kenworth trucks for sale, but the T170 is still built with big ambitions.  This Class 5 truck is manufactured to standards far above most light-duty truck models, and incorporates the technological advances seen in larger Kenworth's to provide a whole lot of power and cost-savings in a small package.
In short, no matter what you're hauling needs, Coopersburg & Liberty Kenworth has Kenworth trucks for sale which can make it happen.  And if you're looking to cut costs further, contact us to ask about our generous trade-in options!