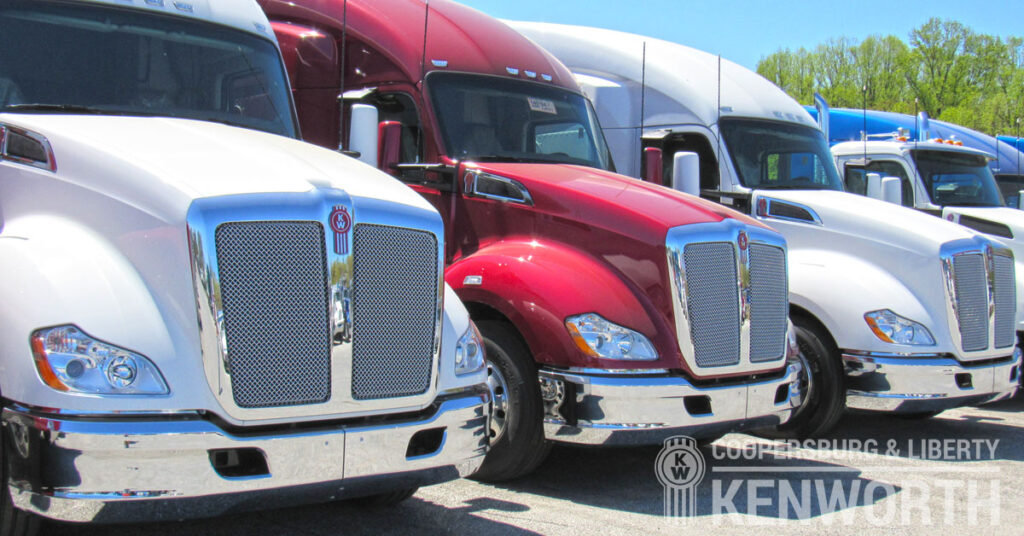 There really is no other truck on the road like the T680 Kenworth, and it is little wonder that it turns heads no matter where it goes!
Kenworth calls themselves "The World's best" in trucking, and the T680 is a perfect illustration of this.  The revolutionary design and smart driver-friendly features make it a purchase which will save your operation money on every haul.  A truly all-around great truck, and one your drivers will be happy to operate.
Revolutionary Aerodynamics Make the T680 Kenworth Shine
Simply put, there is no more aerodynamic truck on the road than the T680, and that means there are fewer more fuel-efficient options either!  According to Kenworth's own testing, every run of the T680 is likely to save at least 10 percent on fuel, compared to most other models.
Every inch of the T680 was designed to reduce drag and increase overall efficiency.  This philosophy was also carried through to other aspects of the design, looking to reduce weight wherever possible.  Wide-base super single tires cut 300lb off the weight.  The PACCAR MX-11 or MX-13 engine is made of compacted graphite iron for significant weight reduction.  Smart in-cab computer systems consistently make suggestions for better fuel efficiency while in operation.
The result is a truck which can pay for itself quickly, through your cost savings.
Multiple Cab Options for Multiple Roles
The T680 Kenworth is primarily designed as a long-haul model, with several cab options available depending on your needs, as well as those of your drivers.  At the top of the range, the 76-inch high-roof sleeper is spacious and comfortable, with so many amenities -including optional TV and cooking accessories- that your drivers won't even need to think about sleeping in a motel.
Or, if weight and space are at a premium, Kenworth offers one of the smallest sleeper cabs on the road, their 40-inch flat-top sleeper.  Smart use of space allows it to provide a full bed and plenty of storage, while keeping both size and weight to an absolute minimum so the largest possible loads can be hauled.
Coopersburg & Liberty Kenworth Have the Best in Kenworth Products!
From short-range local vehicles to trucks ready for a cross-country long haul, Coopersburg & Liberty Kenworth keep a full line in stock and ready to drive off the lot.  With generous trade-in options and full financing available, we bring you the best in trucking.Call us today!