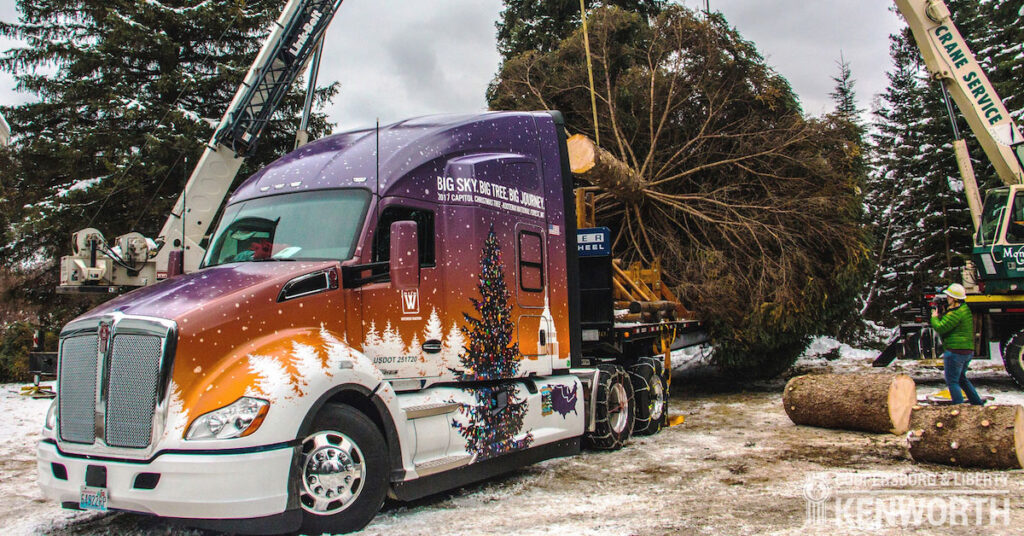 November 15, 2017 – Coopersburg, PA – Coopersburg & Liberty Kenworth is proud to announce that the Kenworth brand will soon receive a very special honor and distinction:  A T680 Kenworth will be the truck delivering "The People's Tree," the large Christmas tree set up every year for festivities in Washington, D.C.
The tree has already been selected, and was cut down last week in a special ceremony on November 8, in the Kootenai National Forest in Montana.  Very soon, the tree will begin its journey of more than 2,000 miles, with fifteen stops along the way for community celebrations.  Ten of those stops will be in Montana, along with stops in both Dakotas, Missouri, and Kentucky.
A Special Kenworth Truck
The T680 Kenworth carrying the tree is no ordinary truck either.  Kenworth has outfitted it with season-appropriate custom livery, with snow falling over the Capitol along with the motto "Big Sky. Big Tree. Big Journey."  This special T680 will be absolutely unmistakable, and will help spread awareness of these great fuel-efficient trucks as it makes its way towards Washington D.C.
The truck features a powertrain, 12-speed automated transmission, and 40,000-pound tandem rear axle, all provided by PACCAR.  The engine is a PACCAR MX-13, rated at 455hp with 1,650 foot-pounds of torque – giving it plenty of power for this unique journey.
Those interested in trying the T680 Kenworth should contact Coopersburg & Liberty Kenworth for a test drive.
About Coopersburg & Liberty Kenworth
For over thirty years, Coopersburg & Liberty Kenworth has been one of the most popular and trusted sources for great Kenworth trucks in the northeast.  Between their two locations – in Coopersburg, PA, and Swedesboro, NJ – Coopersburg & Liberty offer over 40 acres of both new and used trucks to explore.  Along with this, they also offer huge parts and upgrade store, and an extensive on-site body work, repair, and paint facilities.  It's a one-stop-shop for both fleet managers and independent owner-operators.
To learn more, contact 866.306.5552 (PA) or 866.306.5553 (NJ).