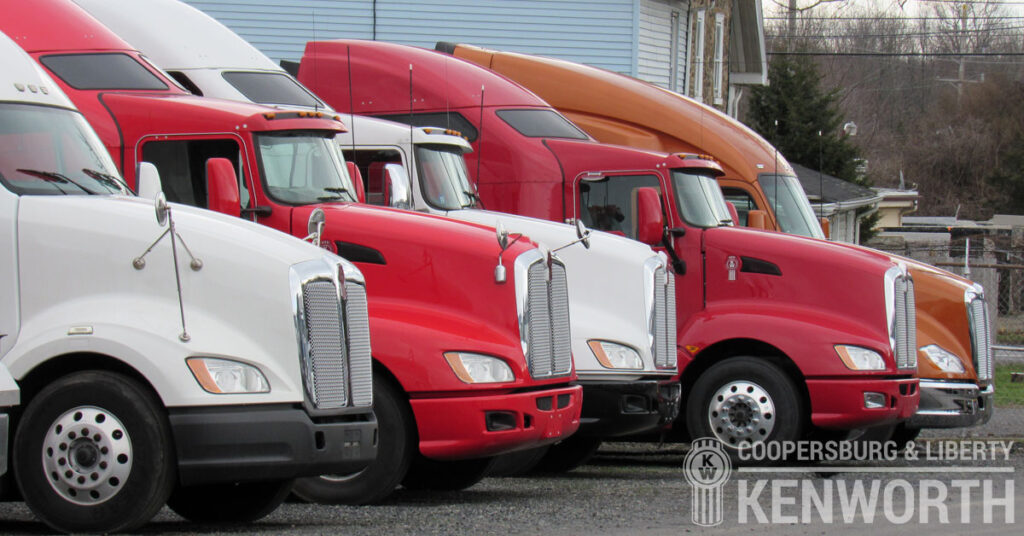 Whether you're in a commercial, industrial, or governmental organization, budgets are always important.  Yet, if you maintain a fleet of vehicles, there simply cannot be any compromise in quality.  Workers, drivers, and pedestrians alike deserve to have only the best in trucks on the road, getting the job done safely and efficiently every time.
That is precisely what makes used Kenworth trucks such a smart investment, and we have plenty of them here at Coopersburg & Liberty Kenworth!  As one of the northeast's most reliable retailers of "World's Best" Kenworth trucks, with locations in both Pennsylvania and New Jersey, Coopersburg & Liberty can outfit your fleet with the best in heavy-duty vehicles at substantial savings.
Used Kenworth Trucks Bring Like-New Performance!
Coopersburg & Liberty has fresh options in used Kenworth trucks arriving on their lot daily.
From top-line T880 heavy haulers to smaller Class 6 box carriers to specialty vehicles, we have everything an organization would want to meet their needs.  Including:
Plenty of 2016 models with less than a year of service, guaranteeing like-new performance that costs tens of thousands of dollars less than new vehicles.
Both sleepers and day cabs, ready for comfortable driver operation whether they're going near or far.
Dump trucks and refuse trucks, perfect for supplementing municipal needs without wasting budget money.
Vacuum trucks and tanker trucks suitable for transporting a wide range of wet loads safely, in full compliance with environmental regulations.
Flatbeds and roll-off trucks, perfect for vehicle transportation with minimal wear-and-tear.
And more!  Our stock changes daily, as vehicles come and go.
We offer full trade-in options as well, accepting vehicles from a wide variety of manufacturers.  A combination of trade-ins and used purchases can cut huge amounts off your fleet costs, making these necessary purchases achievable even on tight budgets.
Coopersburg & Liberty Kenworth has decades of experience, bringing us a reputation for quality service and affordable prices which simply cannot be beat.  No matter your hauling needs, there's a Kenworth that's ready for the job, and by buying used you simply get the best, for less.
Contact us today to find out what used models we have in stock!