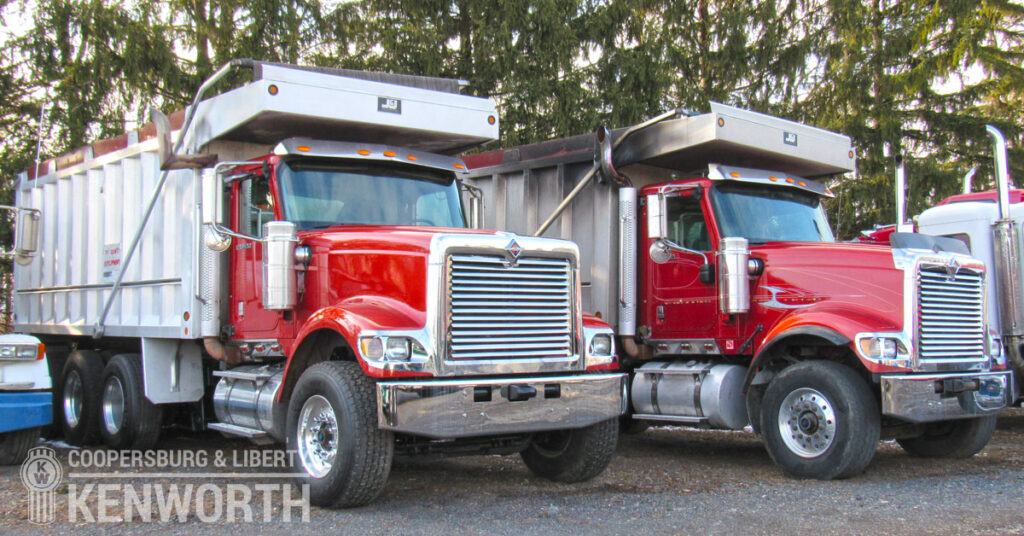 If your organization needs to add more dump trucks to keep up with this year's high summer demand for construction, waste haulage, home improvements, or industrial work, Coopersburg & Liberty Kenworth can make it easy.  Among our many Kenworth and other quality working vehicle offerings, we have dozens of used dump trucks for sale.  
When you need to upgrade the fleet for less, used vehicles are an excellent option. If they are properly serviced and maintained, used dump trucks will still be good for many years and hundreds of thousands of additional miles, yet they cost a fraction of new vehicles.  In some cases, you can add vehicles to your fleet for half-price or less.
And when you choose from the used dump trucks for sale at Coopersburg & Liberty Kenworth, you know you're getting the best in quality.
Coopersburg & Liberty: Your Top Choice for Used Dump Trucks in PA & NJ
When you visit either of our two lots, you've got plenty of options to choose from.  We have twenty-five acres of trucks in Coopersburg, PA, and an additional fifteen acres in Swedesboro, NJ.  Our stock can change on a daily basis, but we always have a good selection of dump trucks in stock, with a wide variety of years and mileage.  
For local work, you could pick up an older model for less than the price of a new car.  
You don't have to worry about obtaining a substandard vehicle, either.  Coopersburg & Liberty Kenworth host our own full-service repair and customization shops on-site.  If you need customization work, extras, or spare parts, that's not a problem either. Our parts shop has tens of thousands of parts and accessories to ensure every truck is outfitted exactly as you need it before it rolls off the lot.
Plus, we offer generous financing options to qualified buyers on our more recent used vehicles.  With attractive interest rates and long-term payment plans, our used dump trucks are affordable to virtually any organization in need of them.
Don't Pay More Than You Need
Dump trucks from quality names like Peterbilt, Mack, International and of course, Kenworth, are built to survive many years and many hundreds of thousands of miles.  The right investment into used vehicles can allow your organization to outfit itself at significant cost savings.