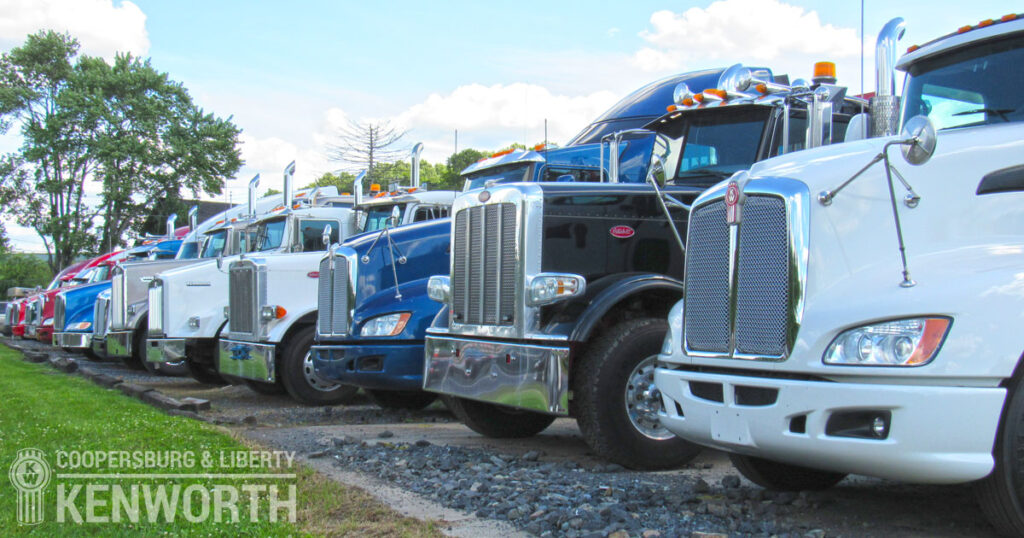 Is your fleet no longer up to the tasks demanded of it?  Are you constantly strained to have enough vehicles on the road to keep up with your work demands?  Are maintenance costs starting to outweigh the value of keeping vehicles in use?
If so, then a trip to Coopersburg & Liberty Kenworth could be exactly what your operation needs.  Whether you're an owner-operator, commercial operation, or in charge of civic fleet purchases, Coopersburg & Liberty Kenworth carries a vast lineup of used Kenworth trucks for sale.  You can save tens of thousands of dollars -or more- off your upgrade costs, while driving off in 'The World's best' fleet vehicles.
Coopersburg & Liberty Kenworth is among the top Kenworth dealers in the Northeast, and its little wonder we're a go-to source for used trucks throughout the area.
Reasons to Purchase Used Kenworth Trucks from Coopersburg & Liberty Kenworth
A Vast Selection
With two full lots, each with tens of thousands of square feet, we have room to stock dozens of used Kenworth's at a time.  Whether you're looking for day cabs, sleepers, or custom models, there's a good chance we have the perfect one in stock right now.
Substantial Savings
With prices often half that of new trucks – or even less – you're getting an incredible deal when you purchase used Kenworth trucks from Coopersburg & Liberty Kenworth.  We focus on high turnaround, allowing our team to match great vehicles to the budget of any operation.
Quality Guarantees
Coopersburg & Liberty Kenworth isn't just a truck lot – we also have our own service shop on-site, staffed by experts with years of experience maintaining Kenworth vehicles.
Extensive Parts Selection
Along with our repair shop, we also maintain a full inventory of parts and accessories for every truck – including used parts.  We'll be happy to customize your used truck purchase to meet your needs, allowing you to fill in gaps in your fleet for less.
Generous Trade-In Policies
We don't just stock used Kenworth trucks – we carry most major makes and models, which means we accept them as trades as well.  If you're looking to replace an aging fleet, Coopersburg & Liberty Kenworth allows you to do so at vast savings with our trade-in options.
Our used stock changes daily, so please contact or visit Coopersburg & Liberty Kenworth today!