Choose Preferences
2024 KENWORTH T280
Stock #: 348439
Engine Mfg/HP: PACCAR /300
New/Used: New
Transmission: Automatic
Wheelbase: 212
Suspension: Reyco
Body Type: Other
$172,950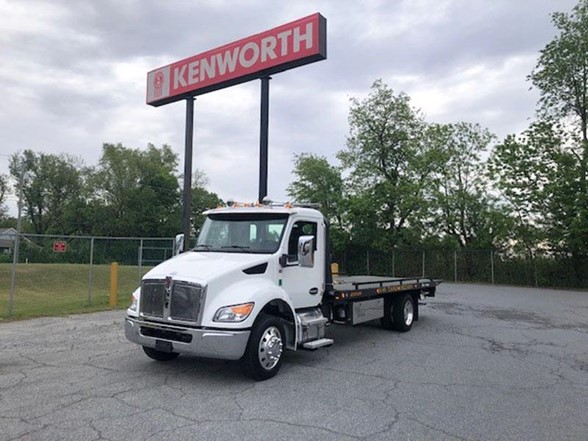 2024 KENWORTH T280
Stock #: 348438
Engine Mfg/HP: PACCAR /300
New/Used: New
Transmission: Automatic
Wheelbase: 212
Suspension: Reyco
Body Type: Other
$169,950
When you see any commercial truck heading down the highway, chances are most of those trucks are going to fall into several common categories, like sleeper trucks and day cabs. However, a minority of trucks are so unique that they don't fit into any category at all. These unique trucks still need to be designed and customized from a manufacturer. The team at Coopersburg & Liberty Kenworth is more than happy to help you get your custom truck order placed.
Most of these custom trucks start with a cab/chassis from a truck manufacturer. At Coopersburg & Liberty Kenworth, you'll be getting one of the highest quality, most durable cab/chassis combinations on the market with a new Kenworth. Depending upon your job requirements, we can design a custom truck with a medium duty or heavy duty chassis. All Kenworth trucks feature powerful PACCAR or Cummins engines. Other features include heavy duty manual or automatic transmissions that are capable of handling any load you have.
New Kenworth trucks also include one of the most comfortable interiors that a driver could ever experience. There are plenty of options. Air ride seats, navigation systems, tilt steering wheel, power everything and cruise control. With these custom options, driving your custom Kenworth will be a job your drivers will fight for.
After we spec out your new Kenworth, the team at Coopersburg & Liberty Kenworth will work with one of our partners who manufacture different truck bodies to get it customized for your specific needs. Whether those needs are a hooklift, flatbed, box truck, tow truck, refuse truck or another design, Coopersburg & Liberty Kenworth can make it happen.
While most of these trucks are custom designed and sold directly to one of our loyal customers, occasionally we'll have these unique trucks in stock. These trucks are ready for you to buy right off of our lot. If you see one and you're interested, please call 1-866-306-5552 or 1-866-306-5553 to speak to the Coopersburg & Liberty Kenworth sales team today.