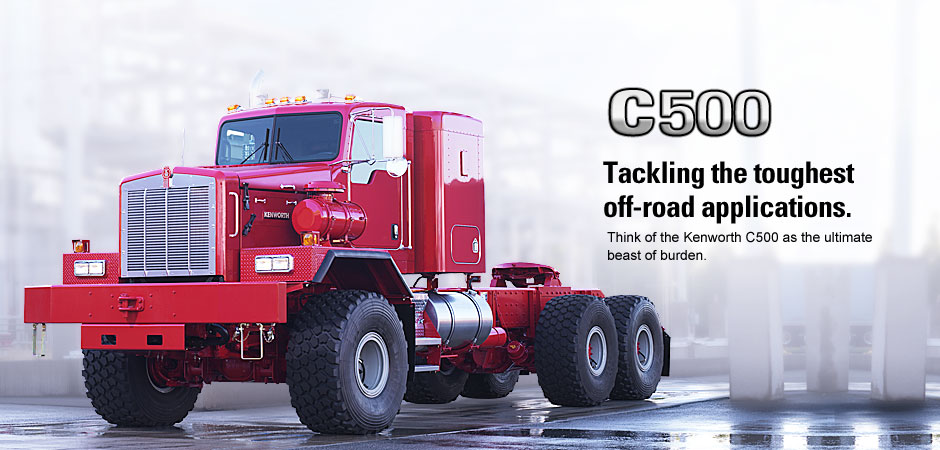 Kenworth C500
Not every load originates from a warehouse or shipping yard. Sometimes a driver is expected to go somewhere different to get it, and sometimes going to get a load requires traveling off-road. Few trucks can handle off-road travel conditions and abnormally large loads as well as the Kenworth C500. In fact, heading off-road and picking up the heaviest loads on the planet is exactly what this truck was designed for.
Built Tough
It starts with heavy duty construction. C500 parts perform well in extreme conditions. This includes the heavy duty frame, steel body panels, and heavy hinges. The C500 has been referred to as "bulletproof" by more than one driver!
Kenworth also manufactures every C500 to drivers' specifications, with dozens of options to choose from. There is a wide variety of frame lengths and cab types. Choose from a day cab, extended cab or one of two sleeper options. Other choices include amount of axles needed and engine options.
C500 – Easy To Drive
Even with it's large size and heavy duty equipment, these trucks are not difficult to drive, on the road or off. The C500 features a 35-degree cut to the steering and excellent visibility from the large windows. In essence, it's a large truck that can go wherever needed!
For drivers seeking a truck to handle virtually any load imaginable, the Kenworth C500 is the ideal truck. Contact the Coopersburg & Liberty Kenworth sales team to learn more about the Kenworth C500 today! Call 866-306-5552 (Coopersburg, PA) or 866-306-5553 (Swedesboro, NJ) to speak with a sales representative.