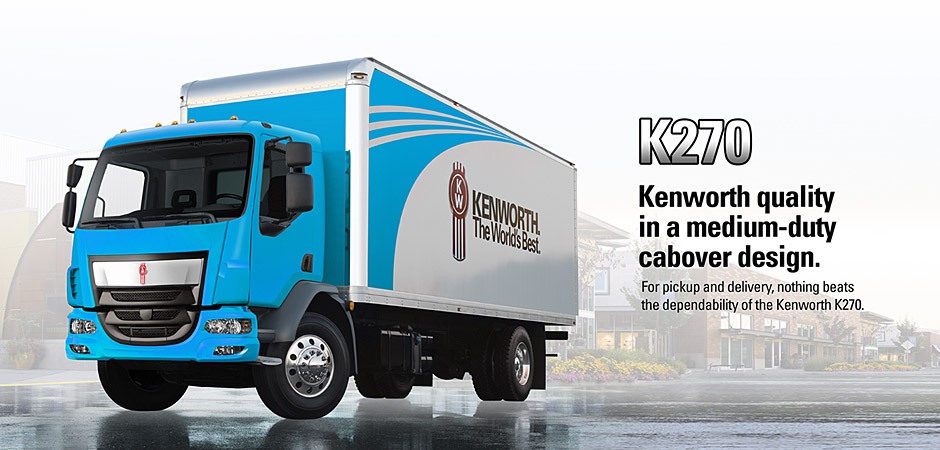 Kenworth K270
Driving a large truck in the city isn't easy. Tight corners and small alleys should be anticipated prior to pick up or delivery. It's crucial to have the smallest and most nimble truck possible. The Kenworth K270 is a small, maneuverable medium duty truck that doesn't sacrifice power or comfort.
Unique & Modern Design
The Kenworth K270 starts with its unique design. It's built on a medium duty chassis with a cabover design; shorter than a standard Class 6 truck. Also, it features a shorter wheelbase and 55-degree wheel cut to help get in and out of practically any situation. It's smaller and more maneuverable than practically any medium duty truck out there.
However, these cabover designs have long had a reputation for riding rough and being difficult for drivers to get in and out of, which city drivers do dozens of times per day. Not with the Kenworth K270. The doors open to a full 90-degree angle, and perfectly placed steps allow drivers to painlessly get in and out. It also features an air ride seat and automatic transmission for even more convenience. A workstation is also available, and power windows, locks, and mirrors are standard.
Powerful Engines & Transmissions
The Kenworth K270 doesn't sacrifice on power. It has a PACCAR PX-7 under the cab, which can feature up to 250 horsepower and 660 ft./lb. of torque mated to a reliable Allison automatic transmission, so there is plenty of power for any load. The cab features a 55-degree hydraulic tilt for easy maintenance access.
This truck proves that medium duty cabovers have come a long way. Contact the Sales Team at Coopersburg & Liberty Kenworth to learn more about the advantages of the Kenworth K270. Call 866-306-5553 (Swedesboro, NJ) or 866-306-5552 (Coopersburg, PA) to speak to a sales representative today.