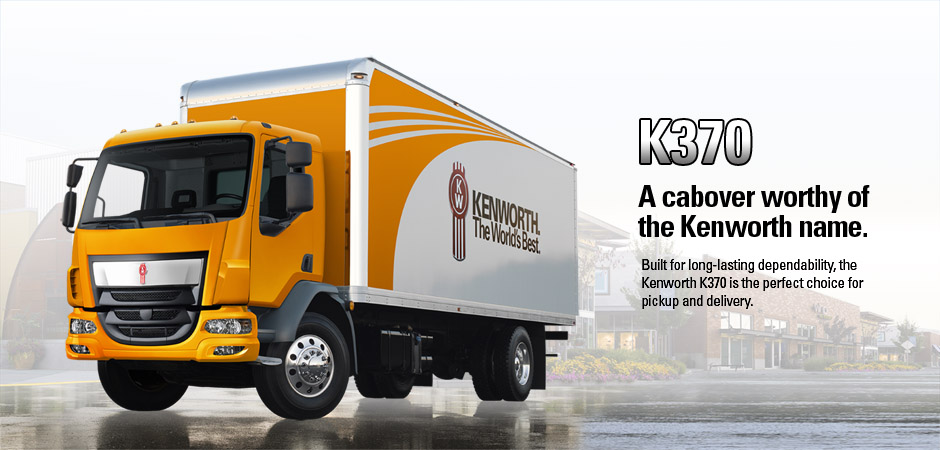 Kenworth K370
Over the years, cabover trucks have earned a rather negative reputation, thanks to horrible rides and lack of driver comfort. Kenworth K370's are changing that stigma every day. These new cabover trucks feature the maneuverability that cabovers are known for. Plus, the Kenworth K370 offers unrivaled power under the hood, and comfort inside the cab.
Kenworth K370's City-Centered Design
It starts with the truck's design. With a cabover design, the K370 starts at a length shorter than the conventional competition and, with an even shorter wheelbase, it's smaller still. That translates into much better maneuverability, especially when coupled with the standard 55-degree steering cut. A new Kenworth K370 truly has unmatched performance, allowing drivers to get in and out of practically any situation.
Plenty of Comfort and Power!
An air ride seat is standard, so drivers won't feel every bump and pothole in the road. The doors open to 90-degrees and entry steps have been redesigned, making it much easier to get in and out, which is a huge help for drivers doing that dozens of times daily. The K370 also comes with features like power windows, power locks and power mirrors, along with an available workstation and a driver info system.
Power for the K370 comes from the PACCAR PX-7 engine, which provides a maximum of 250 horsepower and 660 ft./lb. of torque. Paired with a reliable Allison automatic transmission, the Kenworth K370 truly is a pleasure to drive.
So, if in the market for a new medium duty truck, with heavy duty features, check out the Kenworth K370. Call 1-866-306-5552 (Coopersburg, PA) or 1-866-306-5553 (Swedesboro, NJ) to contact the Coopersburg & Liberty Kenworth Sales Team today about a new Kenworth K370. The sales team at Coopersburg & Liberty Kenworth can assist with truck-related questions, as well as financing options.