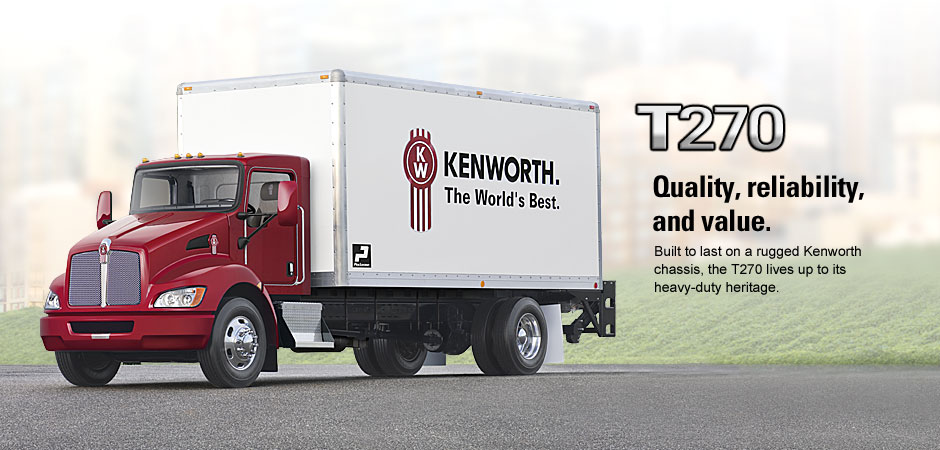 Kenworth T270
Known for durability and flexibility, the Kenworth T270 typically outlast the bodies that are on them. Additionally, powerful engines, aerodynamic styling, and numerous driver amenities, make the T270 a highly-desirable truck in any fleet!
Custom built from the ground up, you get state-of-the-art engine options for maximum power with excellent fuel economy and longevity. A wide range of axle and suspension capacities optimized to your loads and your roads. And many different manual and automatic transmission choices for just the right gearing no matter how long your driver has spent behind the wheel of a truck.
It all starts under the hood. With the powerful PX-7 and PX-9 engines, a T270 can be equipped with up to 350 horsepower and a whopping 1,150 ft./lbs. of torque. Plus, the T270 features either an Eaton Fuller manual transmission or an Allison automatic transmission.
Ready for a medium-duty truck that will likely outlive the body you put on it? Then take a close look at the Kenworth T270 — trucks custom engineered and built with your long-term business goals in mind.
Kenworth T270 Cab
Every T270 features the latest in amenities. Cabs include tilt/telescoping steering wheels, easy-to-operate controls, and air ride driver's seats. Optional upgrades include Nav+ HD, center console/workstations with power ports, cup holders, and plenty of storage. Plus, it offers easy access to the service points. The T270 is easy to keep on the road, day in and day out.
Plus, the Kenworth T270 also makes it easy for body fabricators to install a new body on the chassis. Kenworth's body builder manual includes detailed insight about the process, safety concerns, guidance and much more. It's just another convenience of owning a new Kenworth.
These are trucks you can count on.
The T270 comes with long-time dependability in any form: rollback, box truck, tanker or any other body-type. Contact the Coopersburg & Liberty Kenworth sales team about the T270 today. Call 866-306-5552 (Coopersburg, PA) or 866-306-5553 (Swedesboro, NJ) to learn more.