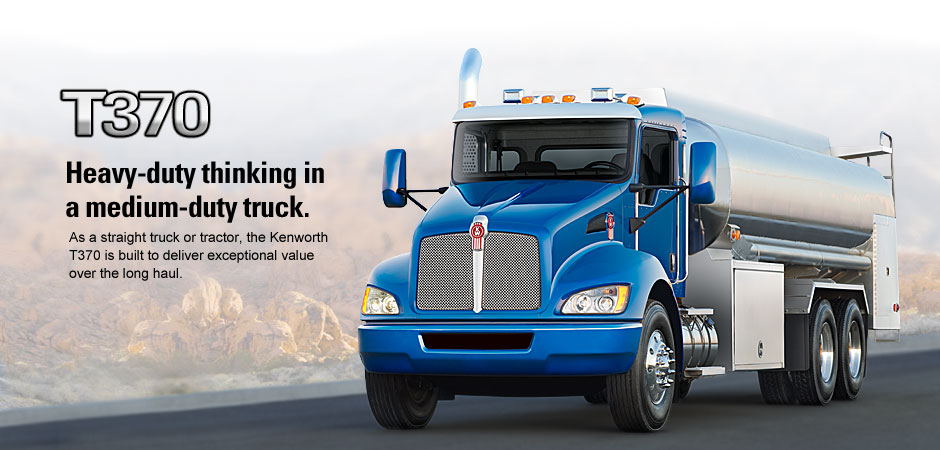 Kenworth T370
In the Class 7 truck segment, there are dozens of choices in the marketplace, leaving buyers easily overwhelmed. However, Kenworth makes the answer easy with the T370.
It all starts with the chassis. Kenworth builds these trucks with heavy duty work in mind. In fact, these trucks are designed to outlast any bodies that are paired with it. It's that tough.
That chassis gets power from either the PACCAR PX-7 or PX-9 engines. Both engines offer excellent power to weight ratio, with the PX-7 cranking out up to 325 horsepower and 750 ft./lb. of torque, while the optional PX-9 can get up to 350 horsepower and an amazing 1,150 ft./lb. of torque. With these options, there is no shortage of power in a T370.
Ready for a medium-duty truck that will likely outlive the body you put on it? Then take a close look at the Kenworth T370 — trucks custom engineered and built with your long-term business goals in mind.
The Kenworth T370 is also extremely driver-friendly. It offers automatic transmission options, plus a center console, tilt and telescoping steering wheel, heated and electronically adjusted mirrors and much more. The T370 not "just another truck." It comes with reliability. Contact the Coopersburg & Liberty Kenworth sales team at 1-866-306-5552 (Coopersburg, PA) or 1-866-306-5553 (Swedesboro, NJ) to learn more.