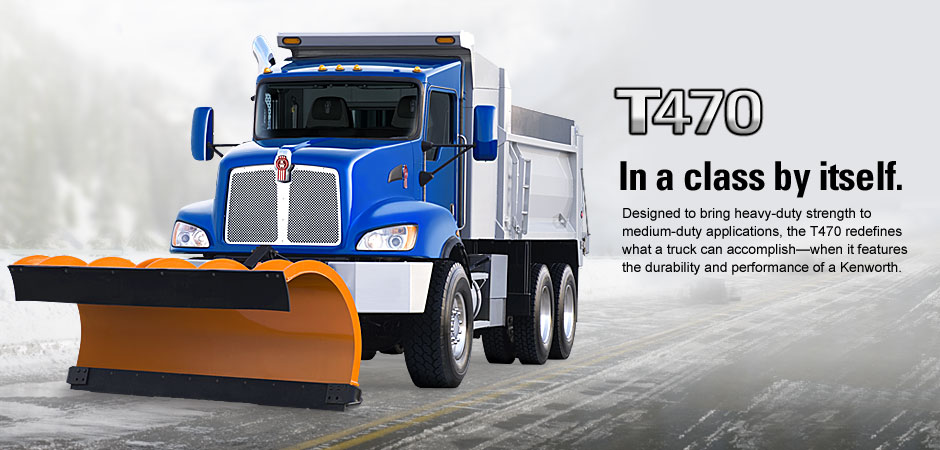 Kenworth T470
Big jobs call for big trucks. While the Kenworth T470 is not a Class 8 truck, it can get the job done. The T470 provides heavy duty truck power in a medium duty body, with a "medium duty" price tag.
The versatile new Kenworth T470 merges just the right mix of brain and brawn to forge a whole new class at the heavy end of what is usually termed "medium duty." With full parent rail extensions providing maximum resistance to bending moment (RBM) from one end of the rail to the other, the T470 supplies a solid and durable mounting platform for hydraulic pumps, winches, front stabilizers and snow plows.
The T470 is ideal for snow plowing and heavy front-axle vocational and municipal applications requiring full parent rail extensions. Plus, it features the world renowned durability and reliability that Kenworth customers expect.
At the heart of every T470 is a powerful PACCAR PX-9 engine, with a choice of Eaton Fuller or Allison transmissions. The T470 also offers up to 22,000 lb. capacity from the front axle and 46,000 lb. capacity from the rear axles.
T470 Cab
Designed for comfort, the cabs come with car-like amenities. Features include Quiet Cab package, air-ride seats, power windows and locks. Plus, the cabs include a workstation in the center console, NavPlus and much more!
Contact the Coopersburg & Liberty Kenworth sales team to learn more about the T470 today. Call 866-306-5553 (Swedesboro, NJ) or 866-306-5552 (Coopersburg, PA) to speak to a member of our sales team.