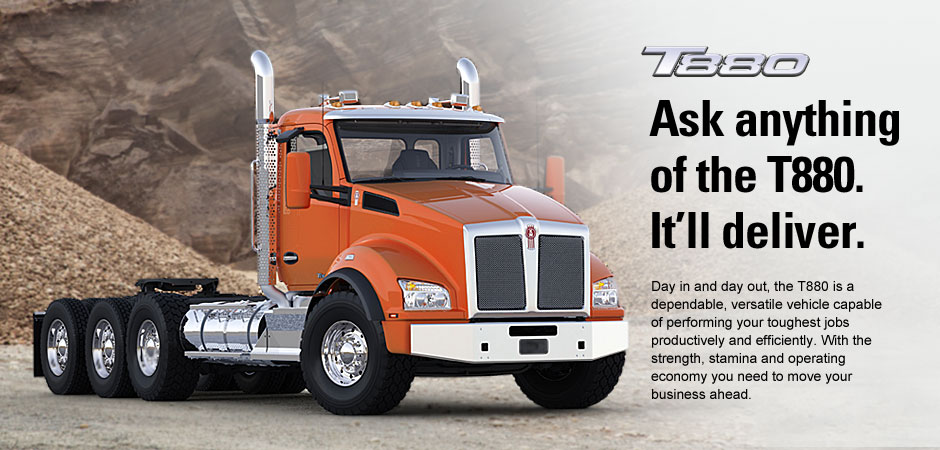 Kenworth T880
Designed to perform extremely tough jobs, Kenworth T880 trucks are "do it all" trucks.
With the T880, you've got a dependable, versatile vehicle capable of performing your toughest jobs. Day in, day out. A truck designed at its core with the strength, stamina and operating economy you need to move your business ahead.
Versatility
T880s are available as bulk tractors, tankers, dump trucks, mixers, heavy haulers, refuse trucks, or loggers. This means lots of available options for building a fleet on a single platform. Plus, there are daycab or several different sleeper options, on multiple wheelbases.
Under the hood, the T880 offers a choice of PACCAR MX engines or the Cummins ISX. Manual, automated manual, and fully automatic transmissions are also available. Additionally, drivers can specify lift axles, exhaust choices, body builder harnesses, and more.
The T880 model offers the option to have one of the most comfortable seats on the market, featuring full adjustability and integrated heating and cooling capabilities. The interior of the vehicle offers various materials and colors to choose from. Additionally, the optional sleeper cab is available in multiple sizes, providing separate controls and ample storage options.
When it comes to demanding work situations, the Kenworth T880 is the ultimate solution. Designed to handle intense tasks, this truck is equipped to deliver maximum performance and reliability. It's "The World's Best" way to get work done.
To learn more about adding Kenworth T880 trucks to your fleet, contact the team at Coopersburg & Liberty Kenworth.