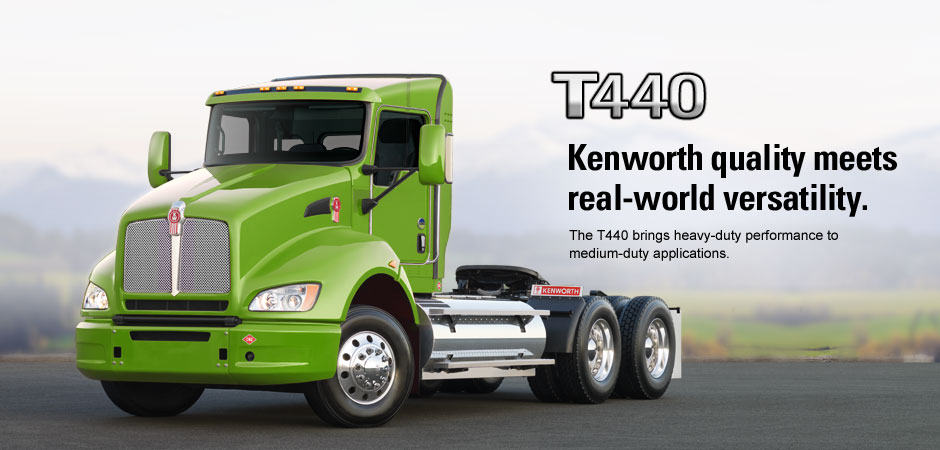 Kenworth T440
For some lighter local or regional hauls, a Class 8 truck is simply too heavy duty and expensive. And, sometimes a medium duty truck just isn't heavy duty enough for the job. For many of these applications, the Kenworth T440 is a perfect match. It's a modern, aerodynamic truck that offers fuel efficiency and performance. Plus, it comes with a chassis heavy enough to handle bigger loads than a traditional medium duty truck.
The T440 starts with a GVW from 33,000 lbs to 68,000 pounds. It's available with a wide variety of bodies and equipment to handle regional hauling and municipal and vocational applications. Combine that with a reliable PACCAR PX-9 engine and transmissions from Eaton Fuller or Allison. This adds up to an extremely heavy duty, durable combination!
In the interior, the Kenworth T440 comes with a wide variety of comfort and convenience options well known to customers of Kenworth. Features include the Quiet Cab package, remote keyless entry, and a workstation between the seats. Also standard are power windows and locks, and an air ride seat. So, with all these interior comforts, any time behind the wheel of a T440 is time well-spent.
Smaller than a Class 8, but more powerful than a typical medium duty truck, the T440 offers long-haul value!  Contact the sales team at Coopersburg & Liberty Kenworth to learn more about the Kenworth T440.