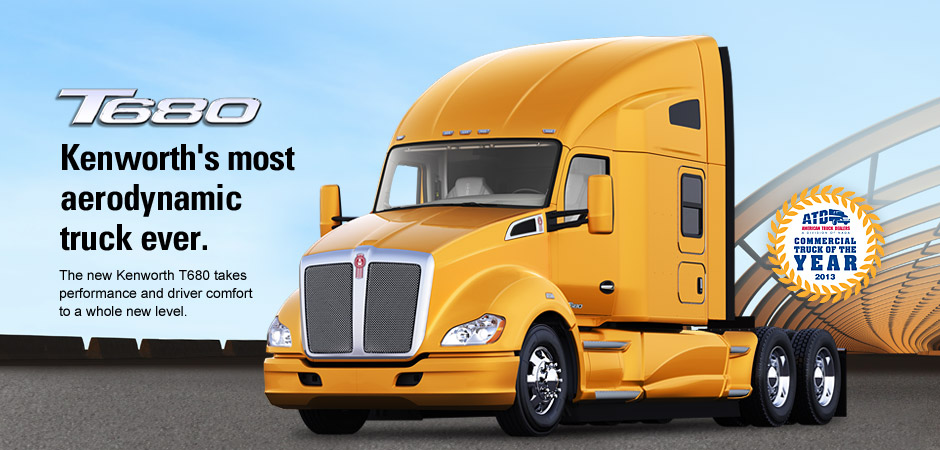 Kenworth T680
Kenworth took the extra time needed to ensure the T680 was designed with the driver in mind. Take a look at the Kenworth T680 features:
Cab
Like every truck, the experience for the driver starts with the design of the cab. Kenworth gathered more than 800 professional truck drivers to get a hands-on evaluation of cab preferences and needs. Then, a design concept was born, resulting in a fully modernized 83-inch wide cab. Coupled with Kenworth's high standards for interior finish and features, the T680 is truly a driver-centric truck. Overall, the T680 offers more storage and a larger windshield than most trucks on the road. Additionally, the T680 is one of the quietest rides available in a Class 8 truck.The cab is available as a day cab or in one of several sleeper options. Dozens of interior options are available as well, so you can equip your T680 to be fully loaded or as simplistic as one desires.
Body
Outside the cab, Kenworth focused on aerodynamics, resulting in the most aerodynamic truck in their model lineup. It features a highly sloped hood, with excellent visibility, industry best forward lighting, and sculpted body lines for that aerodynamic profile.
Power
Under the hood, the T680 can be equipped with a wide variety of engine options. Two engines are available from PACCAR: The MX-11 and MX-13. The MX-11 is new to the market and offers lighter duty performance compared to the more powerful MX-13. However, the MX-11 is much lighter and more efficient than the MX-13; ideal for long hauls. Two Cummins ISX engines are also available. Each engine is available with several automated transmissions or two manual transmissions.
With the T680, Kenworth has made a Class 8 truck that is perfectly suited for the driver. To learn more, contact the team at Coopersburg & Liberty Kenworth.