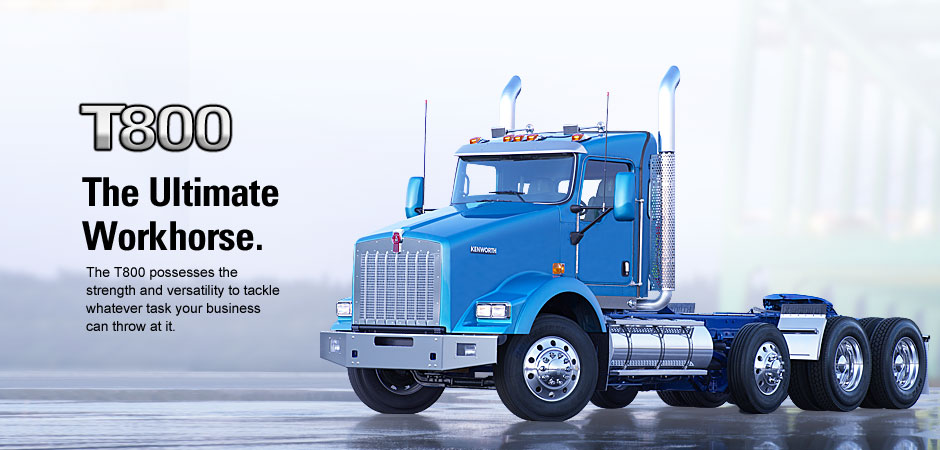 Kenworth T800 Versatility
Since its launch in 1986, the Kenworth T800 has served thousands of drivers in countless ways. Options include day cab, sleeper, and a wide variety of vocational applications. For a tried and true truck that's ready for virtually any application, turn to the T800.
One of the reasons that the T800 has served so many so well for so long is its reliability. It's powered by either the PACCAR MX or Cummins ISX engines and can be backed by a variety of reliable manual or automatic transmissions. Every other component on a T800 is made with durability and reliability in mind. A 10 year old T800 doesn't feel any different than a brand new one.
The T800 also proves comfortable for drivers, whether their load takes them around the corner or across the country. It can come equipped with a spacious day cab for local deliveries or vocational operations, or with an up to 86" Studio sleeper for those cross country trips. Every one of those cabs features the comfortable standard that Kenworth customers expect.
With these specifications and nearly 30 years of history, the Kenworth T800 has proven that it is the truck for many jobs. Contact the team at Coopersburg & Liberty Kenworth to learn more about adding a T800 to your fleet. Call 866-306-5552 (Coopersburg, PA) or 866-306-5553 (Swedesboro, NJ) to speak to a sales representative today.