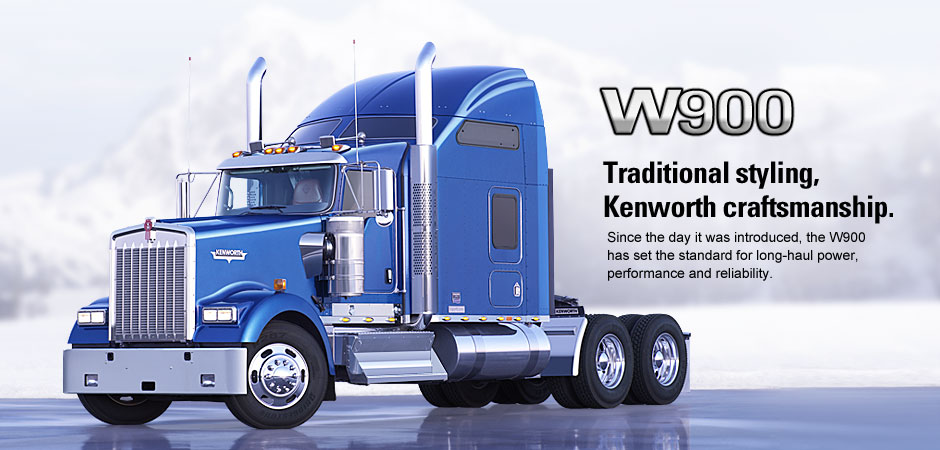 Kenworth W900
In production since 1961, the Kenworth W900 is an award-winning, iconic truck.
While early models and modern trucks are similar in appearance, the truck has evolved over the last 50+ years. Kenworth added the sleeper cab in the 1970s. Then, the rectangular headlights and the addition of the W900S model came in the 1980's. However, the biggest introduction occurred in 1989 with the launch of the W900L. The Kenworth W900L is an extended hood version of the W900B and quickly became one of Kenworth's best sellers. The W900L remains very popular today, especially with owner-operators.
The W900 is one of the most customizable trucks on the market. It's available as a day cab or with several different sleeper options, including the 86-inch Studio AeroCab, which is one of the most spacious and comfortable sleepers on the market. With dozens of interior options, any Kenworth W900 can be equipped to a buyer's specifications.
Kenworth W900s are available with PACCAR MX-13 engines or Cummins ISX engines. Choose from a variety of automatic and manual transmissions. Power will never be at a shortage.
So, if you're looking for the ultimate in trucks and want to get behind the wheel of a true legend, the Kenworth W900 is your truck. Browse our inventory today, or contact the team at Coopersburg & Liberty Kenworth.