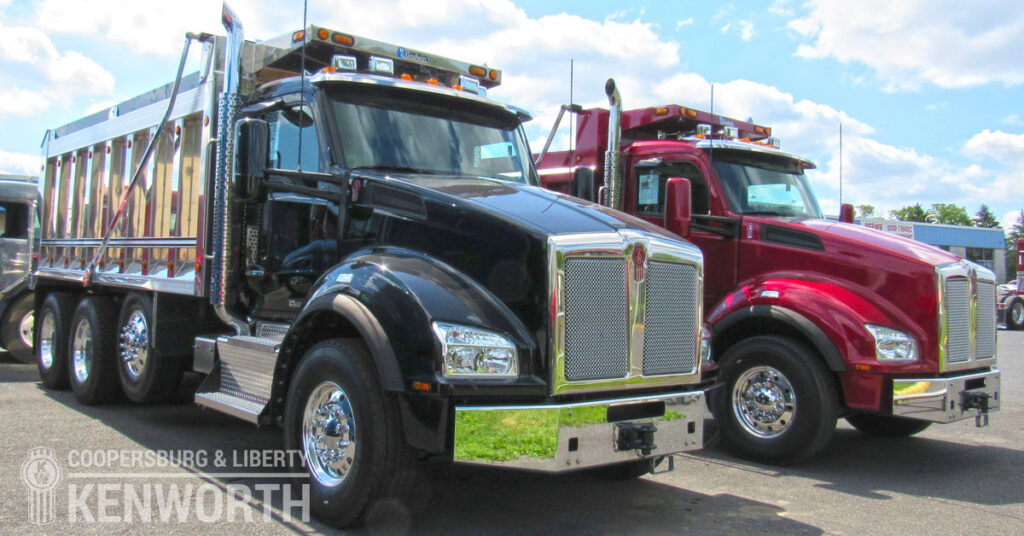 August 10, 2016 – Swedesboro, NJ – Coopersburg & Liberty Kenworth, New Jersey's top option in new and used working trucks, has recently gotten in a large new shipment of dump trucks for sale – and they are ready to roll off the lot today!
Coopersburg & Liberty Kenworth has a wide selection of new 2017 Kenworth T880 dump trucks in a variety of standard configurations, suitable for hauling projects both local and long-distance.  These 2017 models carry on Kenworth's reputation for consummate quality and reliability, and plenty of businesses are taking advantage of this opportunity to upgrade their fleets.
Of course, this also leaves plenty of options in used trucks, as organizations trade in older vehicles to get the latest models.  Coopersburg & Liberty Kenworth has a full stock of used dump trucks for sale in NJ as well, from Kenworth and other major global brands including Mack, Peterbilt, Volvo, and International.  
Dump trucks are the backbone of nearly any major construction or renovation effort, from high-rises to backyard swimming pools.  With so many options in dump trucks for sale, Coopersburg & Liberty Kenworth can ensure every operation in New Jersey has all the vehicles they need to get their contracts done on time, and under budget.
Interested parties should also inquire into their generous financing options, as well as extended warranties, to ensure they get the most possible value from their new or used dump truck purchase. Contact Coopersburg & Liberty Kenworth today.
About Coopersburg & Liberty Kenworth
For customers in both New Jersey and Pennsylvania, there's no better choice in middle- and heavy-duty trucks than Coopersburg & Liberty Kenworth.  Decades of experience has gained them a reputation as a top dealer in both new and used trucks, and they feature full on-site service and a body shop for customization.  With extended warranties and financing also available, Coopersburg & Liberty can ensure every commercial venture has the right working vehicles to get the job done right, every time.
For more information, please visit https://www.coopskw.com/ or call (866) 306-5553.