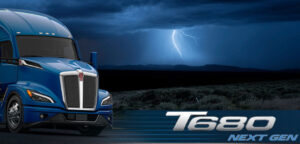 Coopersburg & Liberty Kenworth is helping drivers gear up for spring with excellent prices on their used Kenworth trucks and other brands of used daycabs. Daycabs offer workers who don't need overnight accommodations the perfect option for a heavy duty truck. A used daycab truck can give you an extra boost of value. With the recent T680 price reductions on used daycab inventory, now is an ideal time to find your new work horse.
Daycabs Provide a Great Alternative
Daycabs are a great alternative to sleeper trucks, especially for those who simply have a local "9 to 5" career. These trucks can fill a variety of jobs, like transport, construction or general hauling. For those who want to work hard, but always get home at the end of the day, a used daycab truck is the answer. Coopersburg & Liberty Kenworth has a large selection of used Kenworth trucks and other daycab models and makes. Find an array of features, like dual or tri-axles, different drive trains and optimal fuel economy for your daily mileage.
Benefits of Buying a Used Day Cab Truck
Purchasing a used day cab truck has several benefits. The first is the cost benefits of buying used. Commercial trucks have a high price tag. Buying used allows you to get into the type of truck you want and not have to sacrifice specific features. Since new vehicles depreciate quicker, you'll also gain the advantage of a decreased depreciation rate. Since Coopersburg & Liberty Kenworth has recent model years, you'll still be able to find many of the technology and fuel economy features you're looking for. Buying used is a great way to afford top industry names like Kenworth, Mack and Peterbilt.
All-in-One Comfort and Performance
Many used day cabs, including used Kenworth truck models, offer drivers a myriad of options that enhance comfort and performance. Some sought after features include adjustable driver and passenger seating, integrated technology and connectivity, better mileage and adequate horsepower.
Choosing a Used Day Cab Truck
Coopersburg & Liberty Kenworth's extensive selection gives you multiple choices. Before visiting to look at the inventory, it can be helpful to identify what you want in your used day cab truck. Look realistically at what you can afford and create a budget. List must-have and desired features. Read reviews about different makes and models, and list some of your top choices.
Once you've fine-tuned your budget and needs, make sure to get as much vehicle history as possible on trucks you are interested in. A test drive is always recommended, and ask any questions you may have. Models you can find at Coopersburg & Liberty Kenworth include the Kenworth T800, C500, W900 and a variety of Peterbilt and Mack used day cab trucks.
The Coopersburg & Liberty Difference
Coopersburg & Liberty Kenworth in New Jersey and Pennsylvania makes customer satisfaction their top priority, and right now they're also offering price reductions on part of their used inventory. The sales team is always available to answer your questions and assist you with finding the right used day cab truck for your purposes. In addition to their selection of used Kenworth trucks for sale, you will also find new trucks, day cabs, sleepers with many models and makes for every job. If you're looking for a used day cab truck, contact Coopersburg & Liberty Kenworth today.