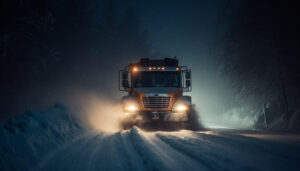 DEF Insulated Tank Covers are a practical, inexpensive preventive maintenance tool. Cold weather has always presented challenges for anyone running medium and heavy duty trucks. Frozen air lines and gelling diesel fuel have long been challenges. Now with the new emissions systems on tractors there is the added challenge of frozen DEF tanks.
Of course, DEF tanks are heated. Assuming the DEF ratio is correct, the DEF should melt evenly, function properly, and not cause any damage to the SCR system. However, extra water and/or other contaminants getting into the tank could present issues. DEF Blankets for PACCAR OE DEF tanks add extra layers of protection and prevent mishaps in the coldest environments!
Triple-layered TRP DEF Blankets have a cold-cracking rating of -40F. With this type of rating you don't need to worry about warming up the tractor. Drivers face less down-time, and heaters aren't working as hard. Custom fit for Kenworth, Peterbilt and Paccar OE DEF Tanks, DEF Tank Blankets go on in minutes. The Blankets work on vehicles with and without fairings and allow full access to the DEF filler cap.
For more information on the TRP DEF Insulated Tank Covers Click Here.
About Our Parts Departments
Whether you're an owner operator looking for Kenworth parts, or the fleet manager of a large trucking company, you have one goal: To keep your trucks on the road as much as possible.
Coopersburg & Liberty Kenworth, and TRP Pottstown each have more than 15,000 truck parts available for a wide variety of truck models.
Our philosophy is simple, we strive to understand your business and become not just a parts supplier, but a trusted partner in the success of your business. Your success is ours: tap our parts experience and together we can both succeed.