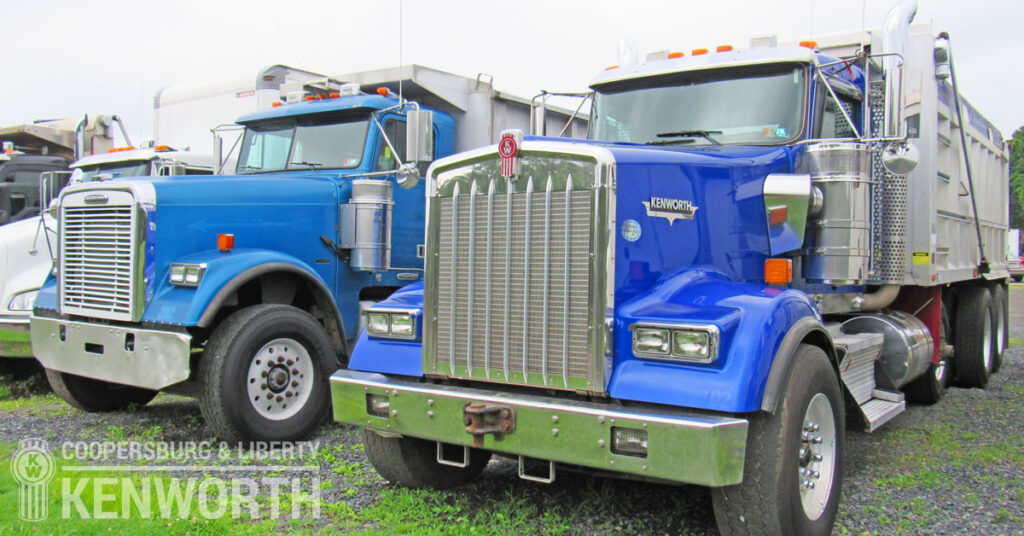 September 10, 2017 – Coopersburg, PA
Coopersburg & Liberty Kenworth currently has an excess of dump trucks for sale, and they are looking to move them at great prices. However, that doesn't mean they want their dump truck drivers to skimp on safety.
Dump trucks can be dangerous pieces of equipment, so Coopersburg & Liberty Kenworth wanted to share some crucial safety tips when operating Kenworth dump trucks.
Dump Truck Driver Safety Tips
Always dump on a level surface. Dumping on inclines can cause sudden shifts in the load which unbalance the vehicle.
Always check tire inflation pressure each day before use. Even small variations in pressure can cause imbalances when dumping.
Know the load limits for the box and adhere to them. Loading too much, or too high, can seriously shift the dump truck's center of gravity.
Always have a guide when backing up, turning, or stopping. Dump truck visibility is usually too low to do it solo from the cab.
When backing up, never exceed walking speed. If the driver overlooks a pedestrian, they need to be able to get out of the way.
Consider the likely flow properties of the material being dumped. If the flow will be uneven, err towards lighter/smaller loads.
Never dump while parked next to any other vehicles.
Coopersburg & Liberty have decades of experience working with Kenworths of all types and models. Those with more questions about Kenworth dump trucks for sale are encouraged to contact the dealership directly.
Coopersburg & Liberty Kenworth
Beginning as a single small lot in 1980 outside Philadelphia, Coopersburg & Liberty has grown to be one of the largest and most popular authorized Kenworth dealers in the northeast. Along with dump trucks for sale, they carry a full line of Kenworths as well as used vehicles from a variety of manufacturers. Visitors also often come for their massive in-house parts store, or superior truck upgrade and modification facilities. Combined, it's no wonder why Coopersburg & Liberty Kenworth are respected across the area.
For more information, contact 1.866.306.5552 (PA) or 1.866.306.5553 (NJ).