Werner Enterprises received the first T680 Next Generation production truck on May 20, 2021. During a special ceremony at the Kenworth manufacturing plant in Chillicothe, Ohio. Kevin Baney, Kenworth general manager and PACCAR vice president, presented the keys and a plaque signifying the delivery of the T680 Next Gen first production during a special ceremony in Chillicothe, Ohio. The recipients of the awards were Werner Enterprises executives Scott Reed and Tony Wahl, director of equipment purchasing.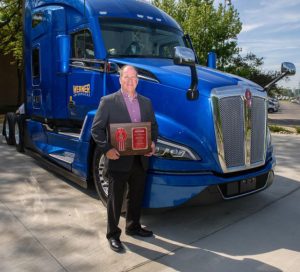 "We are a company built by a driver for drivers, and our drivers are passionate about the Kenworth T680s that have served as an integral part of our fleet for many years. The T680 Next Gen's excellent comfort, styling and performance is highly anticipated among our drivers and we are all eager to see the new model join our fleet," said Reed.
Additional participants at the ceremony included Laura Bloch, Kenworth assistant general manager for sales and marketing. Corey Murphy, vice president of MHC Kenworth Iowa/Nebraska/Illinois, representing selling dealer MHC Kenworth – Omaha. Chris Davis, Kenworth Chillicothe plant manager; and Kenworth's Kevin Tobin, general sales manager – East. Matt Stricker, senior national accounts manager; and John Long, national fleet service manager.
Read more about the T680 Next Generation
---
Coopersburg & Liberty Kenworth
Coopersburg & Liberty Kenworth truck dealerships is a multi-location, one-stop-shop destination for truck drivers. Conveniently located near Allentown, PA and Philadelphia, PA, both locations are easily accessible from major highways in Coopersburg, PA and Swedesboro, NJ.
Each dealership has an experienced sales team and hundreds of trucks and trailers in inventory. New Kenworth models include the T660, T680, T800, T880, W900, W990, and more. In addition to trucks, choose from a wide variety of trailers from MAC, Transcraft, Trailstar, Trailking and other top brands. Additionally, Coopersburg & Liberty Kenworth has hundreds of used trucks from Peterbilt, Freightliner, Volvo, Mack, International, and more!