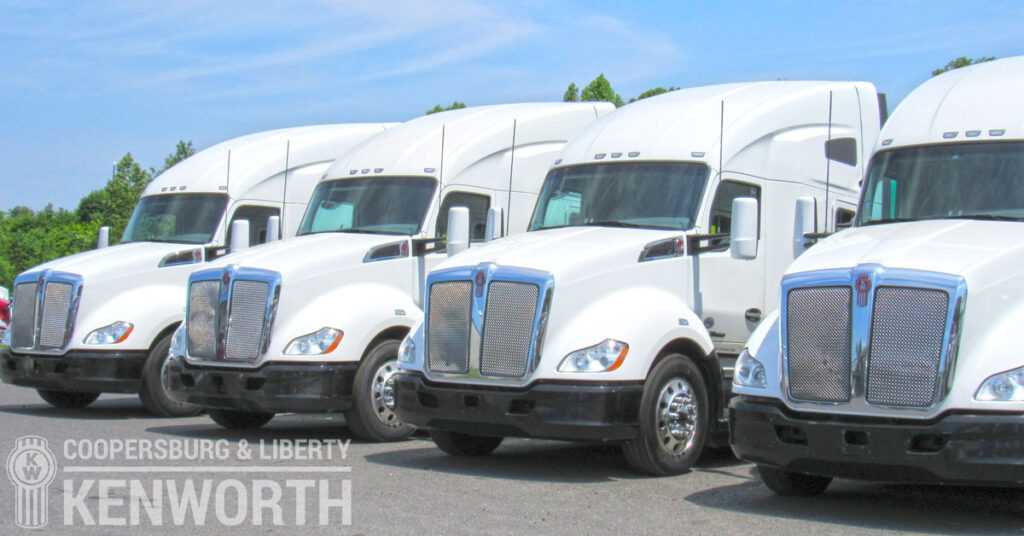 September 15, 2016 – Coopersburg, PA
Both major fleets and owner-operators have been rushing to buy new 2017 models of the T680 Kenworth trucks. Which means Coopersburg & Liberty Kenworth has seen plenty of used 2014 T680 Kenworths come into stock. To help move these still-excellent pre-owned vehicles, Coopersburg & Liberty Kenworth is offering special financing rates for qualified buyers.
Used 2014 T680 Kenworth
For a limited time, buyers can get used 2014 T680s for great prices over 60 months (conditions apply). This used truck deal will offer substantial savings over the cost of a new T680, and puts the price of ownership within reach of nearly any qualified buyer.
The T680 is legendary in the industry for its amazing fuel-efficiency and driver comfort while in operation. All these used vehicles have less than 500K miles. Many are under 400K, meaning they still have plenty of years of service left in them.
Every used vehicle sold by Coopersburg & Liberty Kenworth is fully checked and certified by their highly experienced staff, in their own fully-equipped service bays. Buyers have plenty of options in cab types, and can add trailers as needed as well.
There is no better time to invest in additional Kenworth vehicles, and at these rates, it's an attractive offer for any fleet looking to expand. When combined with Coopersburg & Liberty Kenworth's famous quality and customer service, it's a winning deal.
About Coopersburg & Liberty Kenworth
With more than thirty years serving Pennsylvania and New Jersey, Coopersburg & Liberty Kenworth is well-known throughout the area as one of the best options in both new and used heavy-duty trucks. Their two expansive lots not only host dozens of acres of trucks, but also full service bays as well as a huge parts and upgrade shops. Coopersburg & Liberty Kenworth is a top destination for both major fleets, as well as independent owner-operators who want the best service and the best prices on great Kenworth vehicles.
For more information, call 1.866.306.5553 (NJ) or 1.866.306.5552 (PA) or visit https://www.coopskw.com.