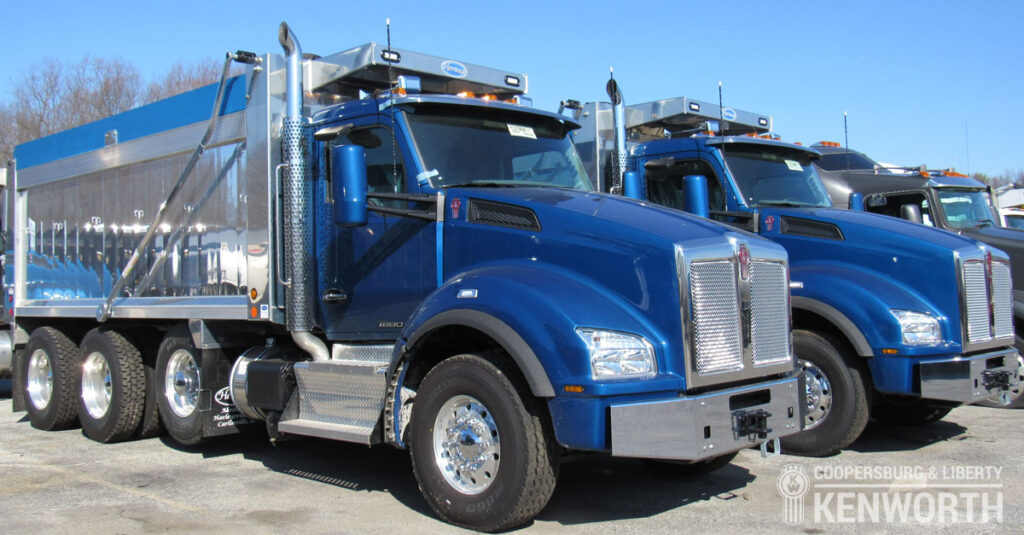 There's no bad time to buy a dump truck. These highly versatile vehicles are useful year round, in any sort of weather conditions. From helping at a dig site to transporting salt for de-icing a city, Kenworth dump trucks are endlessly useful.
We've got a huge selection of Kenworth dump trucks for sale here at Coopersburg & Liberty Kenworth. Just like their tractor-trailer cousins, Kenworth dump trucks have superior reliability, serious ruggedness, and all the power you could need.
Our selection of top 2018 Kenworth dump trucks for sale includes:
Kenworth T880
The Kenworth T880 is one of the true workhorses of their line, designed to be a jack-of-all-trades that can be put into virtually any situation and perform flawlessly. A T880 dump truck is going to be able to handle even the heaviest loads, while their tri-axle with lift design gives them additional versatility without sacrificing their superior maneuverability.
You have your choice of Cummins or PACCAR engines, and multiple transmission types. There's an option here for every driving style.
Kenworth T370
The T370 is Kenworth's top Class 7 truck, a "medium duty" vehicle backed by heavy duty engineering. Perfect for use in-city and around the countryside, a T370 dump truck delivers better performance than many Class 7 alternatives, while keeping your on-the-road costs low. The 300HP PACCAR PX-series engine still brings enough power to haul heavy loads with ease, rated for a GVR up to 66,000.
Significantly less expensive than a Class-8 truck, the T370 would be a good value-conscious choice for municipalities and local construction operations.
Used Dump Trucks Available
Coopersburg & Liberty Kenworth also carries an extensive stock of used dump trucks for sale, in numerous configurations and from all the major brands. We generally have dozens of great dumpers available across our two huge lots, including Kenworths. Fords, Sterlings, Freightliners, Peterbilts, and more.
With our huge on-site parts and accessories store, and