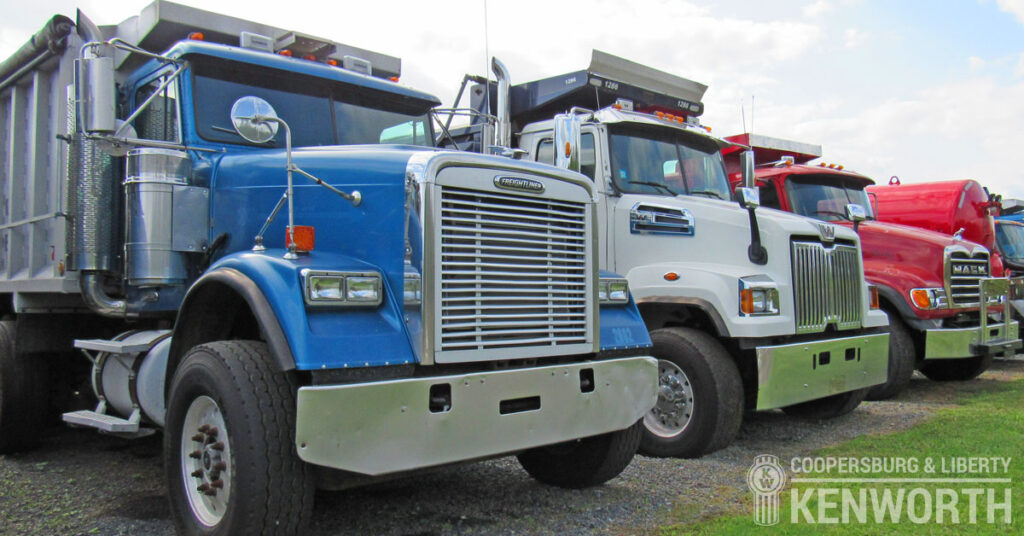 Dump trucks come in many forms, with different configurations available depending on your specific usage needs. One of the most basic decisions to make is how many axles your dump truck should have. Whether you purchase a tri-axle or a quad-axle can make a significant difference in terms of its performance as well as its overall costs. While there's no one right answer, here's our Coopersburg & Liberty Kenworth quick breakdown of both tri-axle and quad-axle dump trucks.
Tri-Axle Dump Trucks
Tri-axle configurations tend to be more lightweight, as well as -of course- generally involving lower on-the-road tolls and costs. This can save money in their operation means that tri-axles very often have lower maximum operating weights. Tris are often a popular choice for local hauling and for construction yard work, since they tend to have better maneuverability as well.
Most tri-axles will include a fourth lift axle which can be raised or lowered as the operator needs. This can be used to potentially increase their operating capacity.
Interstate operators will need to be wary, as state laws regarding use of lift axles and the overall capacity can vary greatly. Some states do not allow the use of lift axles at all, and they must be kept elevated. This can significantly lower total allowed weight carried across state lines.
Quad-Axle Dump Trucks
Quads generally feature two powered axles, and two non-powered axles. Sometimes the non-powered are lifts, sometimes not. Quads can support longer and heavier loads, at the expense of maneuverability and potentially higher on-the-road costs. Depending on the configuration, they can carry between 25% and 50% more than a tri-axle.
Quads are generally considered better choices for longer hauls, particularly interstate work. However, again, it remains important to be aware of local laws regarding dump trucks and their per-axle capacity. They are usually not recommended for construction sites or similar work where they might be called to drive in tight spaces.
Find Plenty of Options in Dump Trucks for Sale in Pennsylvania
For over thirty years, Coopersburg & Liberty Kenworth has been one of the premiere sellers of Kenworth trucks as well as a wide variety of used working vehicles from other brands. Come see our massive lots for yourself!