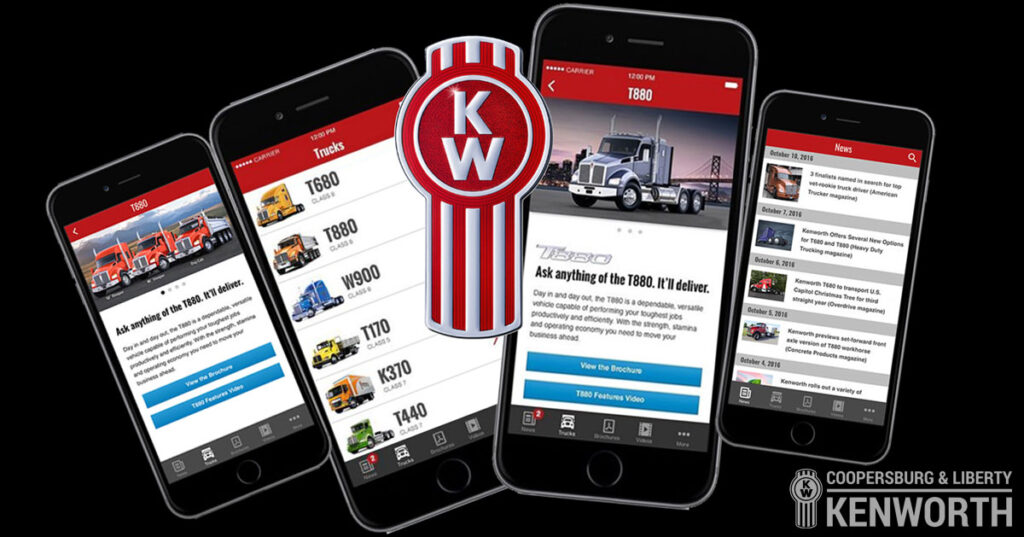 Those investigating Kenworth trucks for sale, or just interested in keeping up with the latest in Kenworth news, should check their device's app store. The new Kenworth Essentials app – available for both iOS and Android – will keep you up to date on everything you need to know about Kenworth vehicles.
Plus, it's completely free, so it's a perfect addition to the tablet or smartphone of any Kenworth enthusiast or fleet manager looking to stay on top of the latest truck technology news.
Great Features in The Kenworth Essentials App
News
The most prominent feature in Kenworth Essentials is their news feed, which provides a day-to-day selection of news, announcements, product releases, and technological innovations. From new truck debuts, to feature upgrades, to special discounts, it's all covered in the news feed.
A Complete Truck Database
Looking to explore your options in Kenworth trucks for sale? The app allows you to browse current Kenworth offerings in-depth or download detailed technical documents and brochures. You can also get full information about other Kenworth services, such as their PremiereCare servicing options.
An Extensive Video Library
Whether you're looking for videos of Kenworth´s in action, or looking for tips on better driving or truck maintenance, the video library allows you to access it all on-the-go. It's a great resource to help you learn more about your Kenworth and see better value when it's on the road. The videos detailing the onboard software and its usage can be particularly useful for drivers looking for more operational tips.
Dealer and Servicing Locator
The Kenworth Essentials app makes it simple to locate places to find Kenworth trucks for sale, as well as all fully licensed servicing locations. In a pinch, this could be a vital feature to help an out-of-contact driver find a repair option if trouble strikes while on the road. If desired, it can also restrict the search to only PremiereCare Gold Certified dealers too.
Coopersburg & Liberty Kenworth Is Your Top Source for Kenworth Trucks For Sale
With acres and acres of trucks on the lot, including both new and used options, a full-service repair and body work garage, and a massive parts selection, there's simply no better option for finding Kenworth trucks for sale than Coopersburg & Liberty Kenworth.
Visit either our New Jersey or Pennsylvania locations to see for yourself!