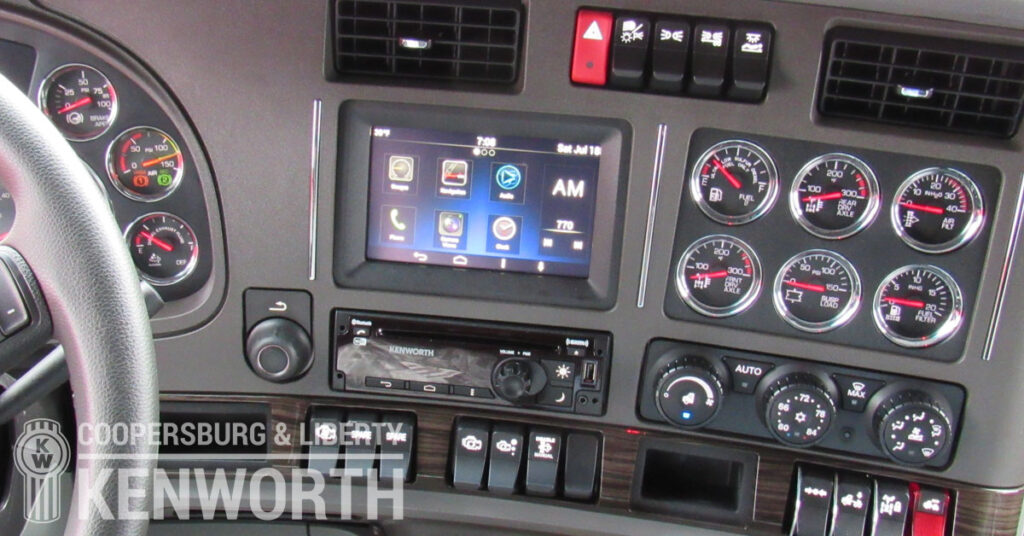 Introducing the Kenworth Nav+HD System
We've been one of the top New Jersey Kenworth truck dealers for decades, and we're consistently impressed at how Kenworth is pushing the limits of truck technologies. They are continually refining their in-cab accessories to make life easier for truck drivers, while also cutting costs for the back office.
One of the best examples of this is the Kenworth Nav+HD system, which comes standard on many new Kenworth models. It's far more than just an in-cab GPS system. It's an all-in-one personal assistant for drivers, designed to improve drive times and reduce incidents while on the road.
How the Kenworth Nav+HD System Improves Truck-Driving
Few other options in in-dash displays offer as much functionality as the Nav+HD system. This 7″ full-color touchscreen system makes life easier and more comfortable for drivers.
Customized On-Road Navigation
Sure, there are dozens of options in GPS systems now… but Nav+HD takes it a step further. It provides mapping instructions based specifically on the parameters of your load, including weight and height. While no GPS will ever be 100% perfect at all times, Nav+HD greatly reduces the chances of situations where a truck ends up on a road it's physically unable to traverse safely.
Plus, maps are updated in real time over wireless systems for the most up-to-date possible intel.
Camera Systems
Blind spots have always been the bane of truck drivers and a source of many – often very expensive – incidents on the road. But no longer! The Nav+HD system supports up to four live camera feeds, giving drivers a clear view of places mirrors can't cover. A backwards-facing camera on the trailer can be especially useful in raising awareness of traffic that's about to overtake the truck.
Gauge Systems
The Nav+HD system can tie directly into the computer systems in the cab, giving backup readouts of critical information such oil temperature, engine torque, manifold boost, and fuel efficiency. This saves the driver from having to fiddle with their behind-the-wheel display.
Integrated Music and Phone Features
Nav+HD supports a wide variety of digital music formats, as well as satellite radio capabilities. In addition, it's Bluetooth-pairable and can allow hands-free usage of cell phones while driving. There's rarely any need for a driver to ever take their eyes off the road!
Turn to Coopersburg & Liberty Kenworth Truck Experts
It's no wonder why Coopersburg & Liberty Kenworth is a top source for Kenworth Trucks in New Jersey – they have an unbeatable combination of expertise, service, and selection.
Come visit the Coopersburg & Liberty Jersey lot today to see the difference for yourself!