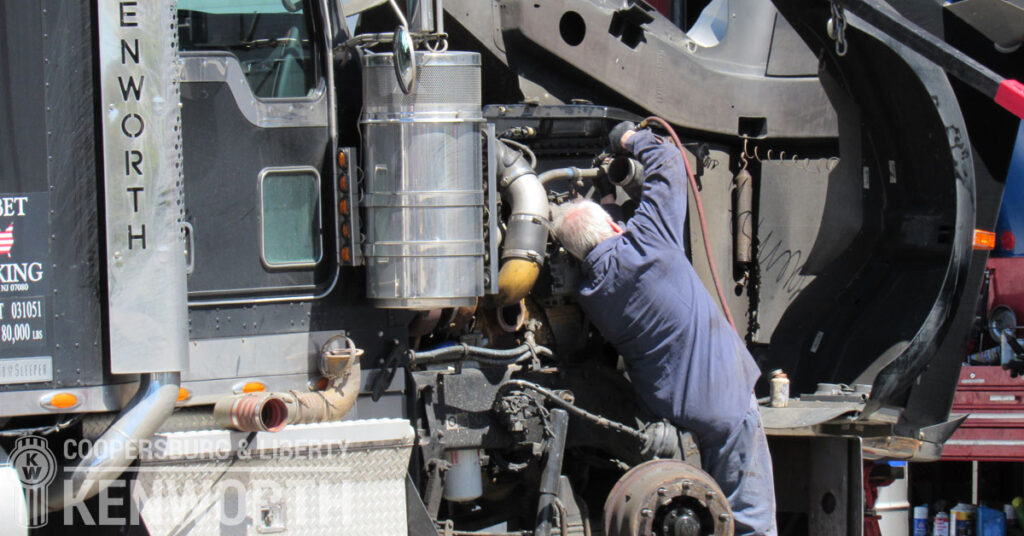 Coopersburg & Liberty Kenworth is, of course, famous across the northeast for our full line of Kenworth trucks for sale. Did you know we offer much more than trucks for sale? We're a full-service truck shop with everything an independent owner-operator, commercial venture, or municipality needs to keep their rigs in top condition!
Beyond Kenworth Trucks for Sale: Coopersburg& Liberty Kenworth Gives You More
A complete servicing bay
Having trouble with your truck? Whether you initially bought it from us or not, we have highly-trained experts who can quickly diagnose the problem and get you back on the road. All makes and models of heavy vehicle are welcome, not just Kenworth. In fact, we're fully certified by Caterpillar, Cummins, Paccar, and Eaton to work on their machinery. We can also do state inspections on your vehicles as well.
We offer speedy turnarounds backed by highly competitive prices and our own satisfaction-guaranteed customer service. Keep an eye out for our limited-time servicing specials!
Full body shop work.
Whether you're in need of major repairs or just want to change the look of your truck, Coopersburg & LibertyKenworth has you covered with our body shop. We can handle custom paint jobs and striping, frame repairs or modifications, full body swaps, and more! Fabrication services are available too, for those special custom jobs. We can also bill your insurance directly, to save you the bother of paperwork.
Additionally, when you make use of our repair or body shop services, we offer free towing (up to 50 miles) for any jobs of $5,000 or more. Plus, we'll store your vehicle for free up to 30 days after the job, so you can pick it up whenever is convenient for you.
New and used parts.
Whether you're looking to do some DIY repairs, or just keep some spare components on-hand in case of emergency, our parts departmenthas whatever you can ask for. We feature more than 15,000 parts direct from legitimate OEM vendors, and parts come backed by a true nationwide warranty. No matter where you are, or how far you drive from coast-to-coast, you'll always be covered.
We also keep a stock of used parts, salvaged from non-working trade-ins, which you're free to browse at either of our two lots. Our used part stock changes often, so we can't always keep the website up-to-date. Give us a call and let us know what you're looking for.
All The Truck Services You Need, In One Place
From the selection of Kenworth trucks for sale, to our extensive used truck options, to our many parts and service options, Coopersburg & Liberty Kenworth does it all. Come visit and you'll see what makes us special!