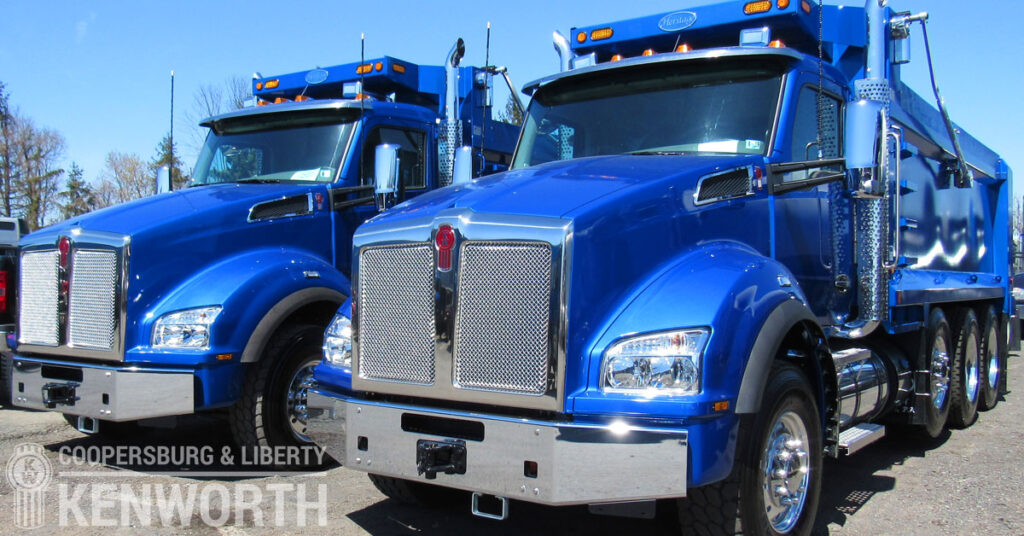 At Coopersburg & Liberty Kenworth, we don't only want you to have a great selection of new and used Kenworth dump trucks. We also want to see our customers operating them safely! This is particularly true with so many new truck drivers entering the field. It's easy to underestimate how dangerous dump truck driving can potentially be.
Always stay safe when operating a dump truck, particularly when there are other people nearby! We have some vital tips for safe dump truck driving.
Five Important Dump Truck Driving Safety Tips
1. Only load on solid, level ground.
It is very easy to tip over a dump truck that's on uneven ground, particularly during the first initial "hit" from whatever substance is filling it. There is a lot of force behind a flow of soil or gravel! Always double check the ground beneath your dump truck, and don't fill it unless the truck is as level as reasonably possible.
2. Don't operate alone.
No matter how experienced a dump truck driver is, they should never attempt to operate the truck solo. Always have a partner acting as a spotter when maneuvering around a work site and assisting with other procedures like loading. So many accidents can be prevented this way.
3. Don't forget the bed liner.
Some people assume a dump truck's bed liner is only there to protect the interior from scratching. That's not true! The bed liner is vital for ensuring a smooth flow of material out of the truck when it's time to dump. Without the liner, the load can get unbalanced.
4. Never, ever over-load
Your dump truck has a weight rating for a reason. For best long-term care, you should try to avoid even hitting your maximum – but you should never exceed it. You can quickly warp the frame, damage the hydraulics, or cause other harm which manifests as on-road incidents that put yourself and others at risk.
5. Always do a morning inspection
You shouldn't take a dump truck on a job without first doing a walk-around and looking for the most common maintenance problems. Check lights, hoses, tire pressure, your hydraulic/lift cylinders, and your pins and bushings.
Get the Parts You Need at Coopersburg & Liberty Kenworth
Maintenance is critical to successful dump truck driving. Come to Coopersburg & Liberty Kenworth for a huge assortment of parts and accessories!