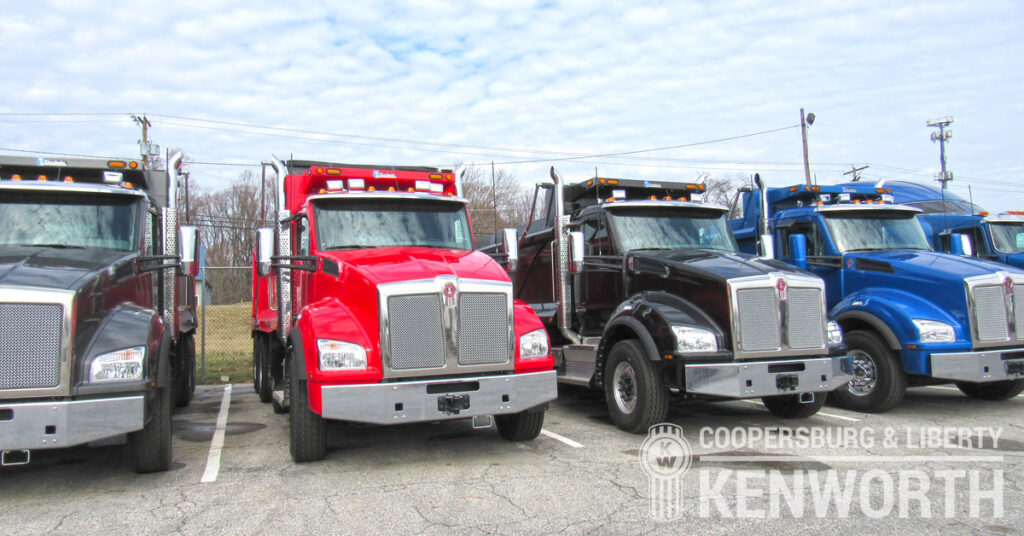 May 5, 2017 – Coopersburg, PA
Dump Trucks Sale at Coopersburg & Liberty Kenworth
Dump Trucks Sale! The spring and summer construction season is well underway, and that means there's a wonderful dump trucks on sale. Coopersburg & Liberty Kenworth has a large selection of dump trucks ready to roll right off the lot. Perfect for municipalities, construction companies, and independent contractors looking to increase their service offerings.
The latest 2018 Kenworth T880s are in-stock at Coopersburg & Liberty Kenworth. Cost-efficient at short, medium, and long-ranges, the T880 is a true workhorse that can go almost anywhere. It offers the reliability and long-term value Kenworth is known for. Paired with a dump truck trailer, these vehicles are an excellent investment.
Coopersburg & Liberty Kenworth also stocks plenty of used dump trucks as well, from a wide variety of makes and models. Beyond typical Kenworth T880 and W900 options, buyers could potentially also find excellent deals on dump trucks from Western Star, International, Mack, Volvo, Peterbilt, Ford, and more.
Coopersburg & Liberty Kenworth is dedicated to matching every customer who walks onto their lot with the perfect vehicles for their needs. Whether someone is looking to trade-in and upgrade an entire fleet, or just needs to add a single vehicle to meet increasing demand, Coopersburg & Liberty Kenworth has what they are looking for.
About Coopersburg & Liberty Kenworth
Coopersburg & Liberty Kenworth is one of the most-respected and trusted truck dealerships anywhere in the American Northeast. For over three decades, Coopersburg & Liberty have been dedicated to building true one-stop-shops for those in need of working vehicles. Their vast lots include acres of both new and used trucks -including specialty equipment like dump trucks for sale- along with huge repositories of after-market parts, state of the art repair/upgrade facilities, and a reputation for excellent service at all times. It's no wonder drivers and fleet managers alike come from surrounding states to visit Coopersburg & Liberty Kenworth.
For more information, visit https://www.coopskw.com or contact 1.866.306.5552 (PA) or 1.866.306.5553 (NJ).