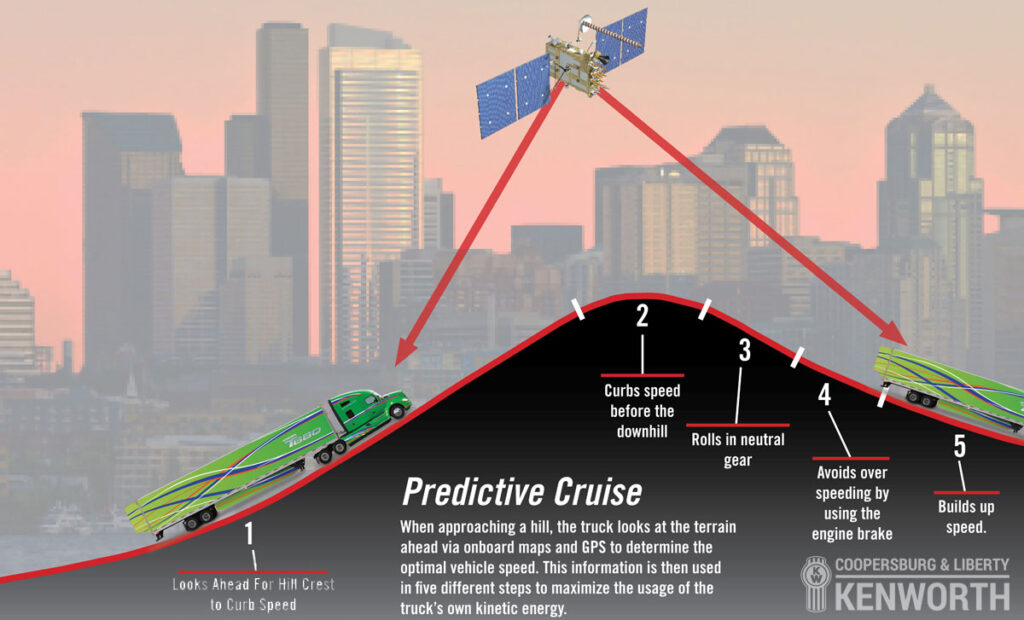 Cruise Control can spark heated discussions in trucking circles. Particularly when those discussions are between a driver and their fleet manager. Drivers love cruise control because it can make their jobs much easier and more comfortable, particularly on extended drives across multiple states. Fleet managers dislike cruise because it's almost always less fuel efficient than active driving with an eye towards fuel conservation.
Kenworth is well aware of these issues and with optimization being such a priority in their truck design, they have set about trying to find solutions that fit everyone. The result is their Predictive Cruise Control system, which is seen in both T880 and T680 Kenworth models. Predictive Cruise recently got a major upgrade, and it's better than ever!
Coopersburg & Liberty Kenworth takes a look.
What Is Predictive Cruise Control?
Predictive Cruise Control (PCC) is a proprietary Kenworth system that's intended to greatly reduce the amount of extra fuel that traditional cruise systems generally require. This is accomplished by making the cruise control smarter.
On T880 and T680 Kenworth trucks, the Predictive Cruise Control system is tied directly into the GPS signal coming into the truck. Rather than a "dumb" cruise control that simply seeks to keep the truck at a particular speed, PCC watches the road ahead. It also makes decisions regarding braking and accelerating based on the upcoming ground topography.
Alongside this, the cruise control is also somewhat more flexible regarding permitted speeds, like a smart human driver would. In a hilly area, for example, it will stop accelerating so hard on the upslope. Let momentum carry the truck, even if that sacrifices some speed. Likewise, it won't bother adding any gas on the downslope if gravity will add all the necessary power.
Plus, the system keeps getting smarter! This latest software upgrade significantly improves the algorithms and routines. It calculates fuel use while in Predictive Cruise mode, making it run even more like a human driver would. According to Kenworth, the latest revision can shave yet another percent or two off the gas usage while in cruise control – and that can really add up when you're hauling loads through hundreds of miles of uneven terrain.
Best of all, Predictive Cruise Control is an available option on any T680 or T880 truck.
Try Out The Most Fuel-Efficient Truck On The Road Today!
The T680 Kenworth is by far the most fuel-efficient truck available, and it can substantially reduce your fleet's on-road operating costs. Savings of up to 10% aren't unheard of! To learn more, or to schedule a test drive of these great Class 8 trucks, just visit Coopersburg & Liberty Kenworth!