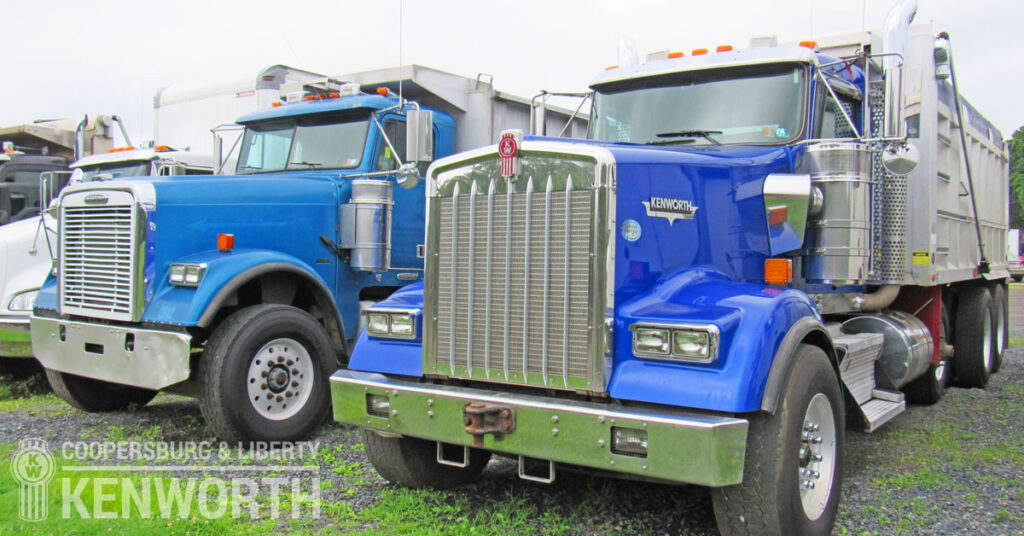 Given how versatile and useful dump trucks are, there's always a great market for used Kenworth dump trucks for sale in Pennsylvania – and that can mean huge savings for your fleet. The right used dump truck can bring you many years of reliable service, while costing half or less what a new truck would.
However, that's if you find the right dump truck. Smart buying is a necessity for protecting your investment, and that means carefully checking the dump truck before you buy.
Five Must-Checks Before Buying Used Kenworth Dump Trucks for Sale in Pennsylvania
Road-Hours
Given how many dump trucks may be used extensively on very short runs or even just moving around single dig sites, mileage isn't necessarily a reliable measure of how used the vehicle is. Instead, look at its hours meter. If it has more than 10,000 hours, there's a good chance some components will be showing wear or need to be replaced. If you are told various components have been replaced, ask to see the documentation.
The Lift Cylinders
A dump truck is no good if it can't dump! The lifting cylinder(s) are almost always hydraulic and could potentially have taken a real beating, depending on how heavily-used the truck was. Watch for any signs of fluid leaks, and make sure it lifts and lowers without stuttering.
Tire Condition
Although tires may seem like a simple and affordable component to replace on a truck, their condition can reveal a great deal about the care and maintenance of the dump truck. Neglected and excessively worn tires often reveal additional underlying issues.
Under the Hood Maintenance
Look under the hood at aspects such as the belts, oil and air filters, and similar easily-replaced parts. Likewise, check the fluids – are they topped up, or bone dry? Leaks? Evidence of poor maintenance under the hood is almost always a red flag for poor maintenance overall. Again, if possible, ask for the service records.
Inside the Cab
Also check the cab interior for signs of mistreatment, and start it up to ensure all dials, gauges, turn signals, accessories and lights are working properly. Likewise, see how firm the steering wheel feels. Too much play can mean alignment/suspension, or other issues. These are all elements that, again, can indicate poor treatment and suggest there are worse surprises to come.
Coopersburg & Liberty Kenworth Can Find You the Perfect Used Kenworth Dump Trucks for Sale in Pennsylvania
No matter your needs, contact us today and we'll find you the right dump truck.