What makes the T800 such a key player among the wide range of Kenworth models?
Versatility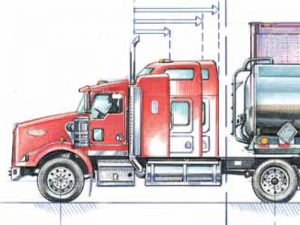 With the recent promotion of the highly anticipated Kenworth W990, it's easy to overlook some of the other options. In order to help with your truck purchase decision-making process, we thought we'd take a moment to shine some new light on one of our favorite top-sellers: the T800.
For over 30 years, drivers in the vocational, heavy-haul market have come to rely on the T800 as a true work horse. Due to their set-back front axles and tight wheel cut, they rank high for maneuverability on the job site. There's nothing these trucks can't handle. Rear axle ratings can be specified to meet customer demands from lighter loads to extreme heavy hauling.
Under-the-hood-options are limitless as well. The Kenworth T800 can be spec'd with various engines, horsepower ranges and several different radiator sizes.
These trucks can be built to accommodate the driver, and for that reason alone – drivers love them. T800's can be configured as line-haul tractors with standard day cabs as well as small to large sleepers. In addition to these choices, the trucks feature a sloped hood for maximum visibility and aerodynamics, and you've got the best of both worlds: a dependable work truck with maximum comfort.
Kenworth T800 Availability
While the commercial truck supply continues to lag behind record-level freight demands, it's important to note that Kenworth T800's can be custom-ordered. This is a great time to consider the T800, as other models, such as the T880, are sold out.
Coopersburg & Liberty Kenworth have a team of truck experts, on-hand, and ready to get you on the road. Let us spec your next Kenworth T800 to surpass your demands. Contact the experts at Coopersburg & Liberty Kenworth today.