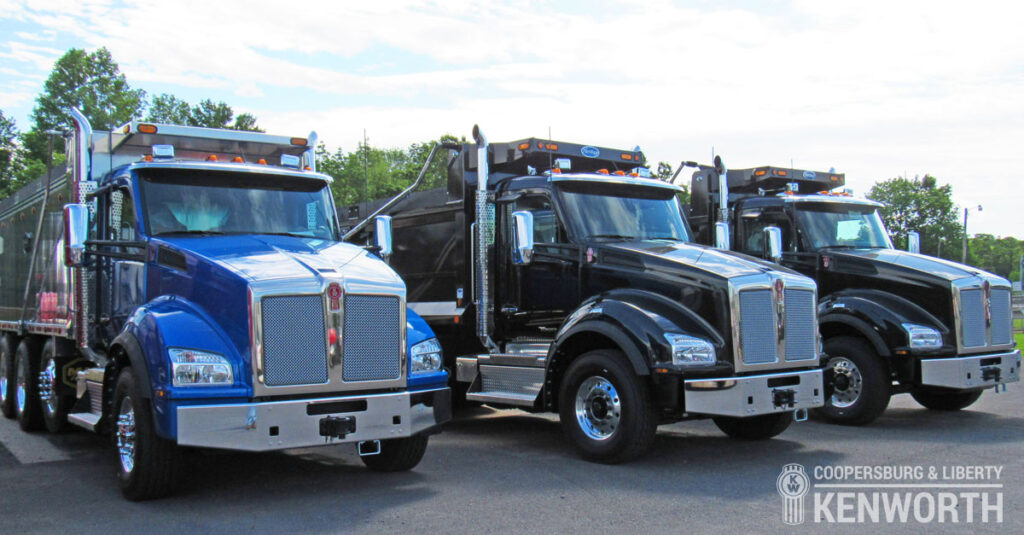 June 20, 2017- Coopersburg, PA – For most cities, as well as construction contractors, a fleet of superior dump trucks isn't a luxury – it's a necessity. Thanks to Coopersburg & Liberty Kenworth, an immense variety of dump trucks for sale are available at excellent prices to buyers across the Northeast who come to visit either of their locations in Coopersburg, PA, and Swedesboro, NJ.
Dump trucks are among the most versatile vehicles that can be added to a working fleet. They're indispensable for hauling materials around construction or dig sites, particularly for short local runs. Coopersburg & Liberty Kenworth stocks a wide variety of dump trucks, specifically to ensure they can meet the needs of their clients. If a client is ever in doubt, the experts at Coopersburg & Liberty can always suggest the perfect option for their needs.
These fleet upgrades can come at substantial savings as well, because the huge Coopersburg & Liberty lots have room for plenty of used vehicles. These used dump trucks for sale have plenty of years of service left in them, with most left in excellent condition by their former owners. It's a perfect way for fleet operators and contractors to expand their service offerings at low costs.
People come from miles around to visit Coopersburg & Liberty Kenworth, because few truck dealers in the Northeast offer the same combination of selection and service.
About Coopersburg & Liberty Kenworth
For over thirty years, Coopersburg & Liberty Kenworth have built a reputation as one of the most reliable and service-focused truck dealerships in the Northeast. With two huge locations covering more than forty acres total, Coopersburg & Liberty have room to stock a vast array of both new and used vehicles, from Kenworth as well as other brands. Add to that a vast parts/accessories shops with in-house repair and upgrade services, and the result is a truck dealership that goes a step beyond.
For more information, visit https://www.coopskw.com or contact 1.866.306.5552 (PA) or 1.866.306.5553 (NJ).