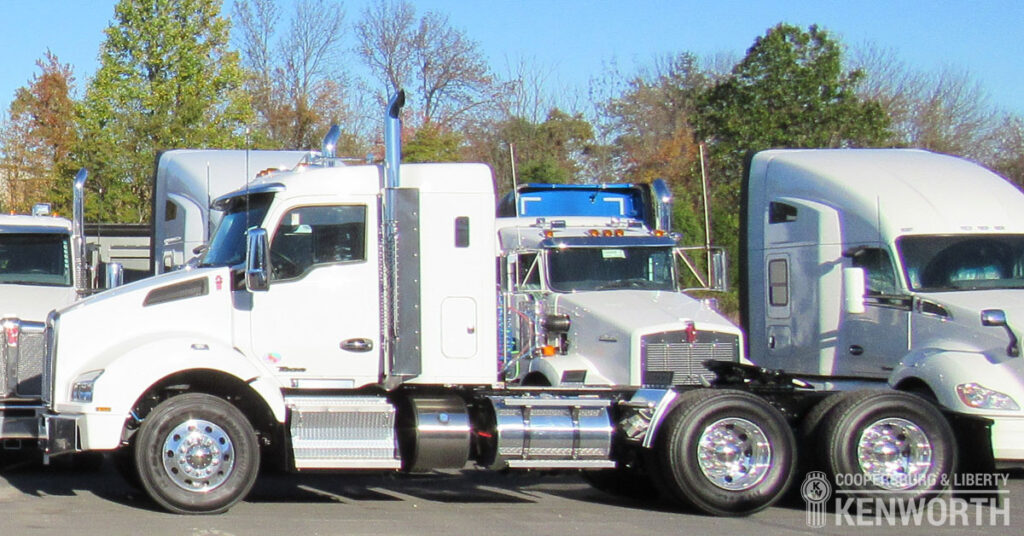 It's hard to believe that the Kenworth T880 was only introduced in 2014, given how much acclaim it's racked up in such a short amount of time.  Originally conceived as a replacement to the T800, the T880 has grown to be far more than a simple upgrade from that classic model.  It's taken on a life of its own, and has been continually ranked as being among the best trucks on the road – including "Truck of the Year" awards from multiple outlets.
What makes the Kenworth T880 so special that it's become such a popular and acclaimed model in such a short span of time?  Our Coopersburg & Liberty Kenworth team takes a look at the highlights.
3 Reasons Why the Kenworth T880 Is Among the Best Class 8 Trucks on the Road
Easy maintenance
Kenworth knows that maintenance should not take the truck off the road for any longer than necessary, so the T880 is designed with human accessibility in mind.  The engine is easy to access, and areas which will need to be checked frequently – such as the dipstick and oil spout – are readily at hand.  Other vital components, such as the belts, are plainly in-view and require little work to remove.
This helps keep its downtime as low as possible.
Luxury cab
Sure, you aren't buying a Class 8 truck for the cabin – but a nice cabin sure helps the miles go by.  The Diamond VIT T880 cab has been compared to a luxury car in terms of its feel and polish, making the T880 a genuine pleasure to drive even for long distances.  Additionally, Kenworth deploys superior sound-dampening to keep cabin noise as low as possible.
Plenty of power to spare
With your choice of either Cummins or PACCAR engines, and up to 600HP and 2,050 lb-ft of Torque, you'll never have to worry about whether a T880 is capable of handling your load.  It is.  Only in the most difficult and rugged terrain is there likely to be any issue, and in such situations, you'd probably want a dedicated off-road vehicle anyway.   Otherwise, the T880 is a true "jack of all trades" that's suitable for a wide variety of jobs.
Try Out a Kenworth T880 for Yourself at Coopersburg & Liberty Kenworth
Looking to buy?  You're always welcome to come test drive the latest in Kenworth trucks at either of our two locations!