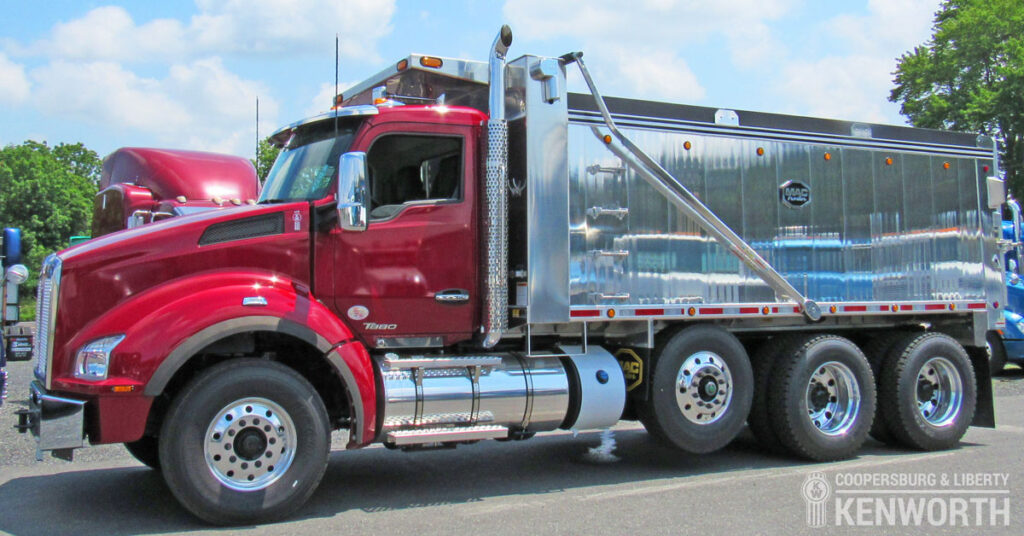 Sure, a dump truck can be one of the best all-around investments you can make in your fleet . But there are plenty of choices in dumpers. Why choose a Kenworth T880 dump truck?
Well, the T880 is one of the newest offerings from Kenworth. It's only been around since 2014, but in that time, it's rocketed to the top of sales charts as well as award lists. One year after introduction, it was already receiving "Truck of the Year" accolades from multiple outlets. It continues to be continually ranked as one of the best trucks on the road.
The Kenworth T880 dump truck brings you all the benefits of a standard Kenworth, including exceptional dumping/hauling capabilities as well!
Three Reasons to Consider a Kenworth T880 Dump Truck
1. Tri-Axle design with lift brings extra flexibility
A tandem dump truck is going to have better maneuverability than a tri-axle. But a tri-axle can legally haul heavier loads in most states. Why choose when you can have both? Most Kenworth T880 dump trucks come with an available lift axle, specifically to give you more choices in how you use your dump truck, without sacrificing power or maneuverability in tight situations.
2. Great cab ergonomics
You want your drivers to have as easy a time as possible operating their dump truck, and this is one area where Kenworth absolutely excels. Their cabs aren't just luxurious and surprisingly low-noise; they've also been designed with ergonomics in mind. Controls are easy to reach, and elements such as the clutch require less force to utilize – making operation less wearying over a long day.
Plenty of engine choices
3. Plenty of engine choices
There are six different engines which can be dropped into a T880 dump truck, ranging from a PACCAR MX-11 to a huge Cummins X15. This allows you to pick the perfect balance between power and fuel use to fit your needs.
Take Your Pick of Kenworth T880 Dump Trucks
We have plenty of new and used Kenworths here at Coopersburg & Liberty Kenworth. Come by and see our selection today!