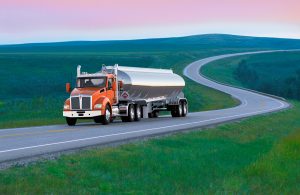 For bulk haulers, truck tare weight is a crucial factor in the payload formula. In fact, many drivers are willing to sacrifice quite a bit of truck if it amounts to more payload. A number of questions arise: How do you spec a Kenworth truck for maximum payload? Will truck dependability and driver comfort be compromised? What is the best truck for bulk haulers? Who makes the lightest engine? What are the standard Kenworth tare weights?
Simply put, there is no "one-size-fits-all" answer. Too many factors come into play. For instance, one truck spec might be ideal for flat highway hauls, but not suitable for mountainous terrain. Another might be hauling lightweight material, while another is hauling gravel. So, as all of these determining factors add up, the solution becomes less and less clear.
The Coopersburg & Liberty Kenworth Sales Team can take away much of the guesswork. When trying to spec a Kenworth truck for efficiency, dependability, comfort, AND maximum payload, trust one of our experts to help you achieve that goal.
Truck Weight Variables
Kenworth tare weight can vary, based on a number of truck spec considerations:
Standard aluminum cab vs. steel cab. Unlike many other trucks on the market, Kenworth trucks feature stamped aluminum cabs. Compared to steel, these cabs are corrosion-resistant and extremely lightweight.
Mid-rise sleeper vs. high top. Coincidentally, and much to the benefit of many bulk haulers, the lower height is a better match for a number of tank and flatbed trailers. Many of these trucks are operated by weight-conscious fleets. Driver amenities and sleeping quarters are not necessarily sacrificed with a smaller sleeper size.
Engine size. Coopersburg & Liberty Kenworth can spec trucks with a wide variety of engine sizes from Paccar or Cummins. After horsepower and torque demands are taken into consideration, engine specs are provided to fit your truck and needs. Consider a Paccar MX-11 with a small engine size and 430 horsepower. It weighs 400 lbs. less than the MX-13! That can make for a significant difference in tare weight …and payload!
Fuel tank size. Diesel weighs approximately 7.5 pounds per gallon. That adds up quick. If you're running shorter distances, it might be time to consider a small capacity fuel tank. A hundred gallons is usually sufficient for a driver running one-day trips.
Manual vs. Automatic transmission. Often overlooked, transmission type can change a truck's tare weight.
Single tires on aluminum wheels vs. dual wheels. Today's aluminum wheels are significantly lighter than their steel wheel counterparts.
And the list of considerations goes on and on.
What About Truck Quality?
It's a common mistake to assume that lightweight trucks will result in loss of reliability or truck comfort. Drivers with on-the-road experience with lightweight trucks often favor small cabs, as they offer excellent road visibility. Additionally, the smaller engines produce less volume and provide quiet drives. Add to these advantages the potential increase in payload, and, for many drivers and fleet owners, it's an easy decision.
Contact one of the experts at Coopersburg & Liberty Kenworth today to learn more about how to properly spec your truck for maximum payload return.
Reference: