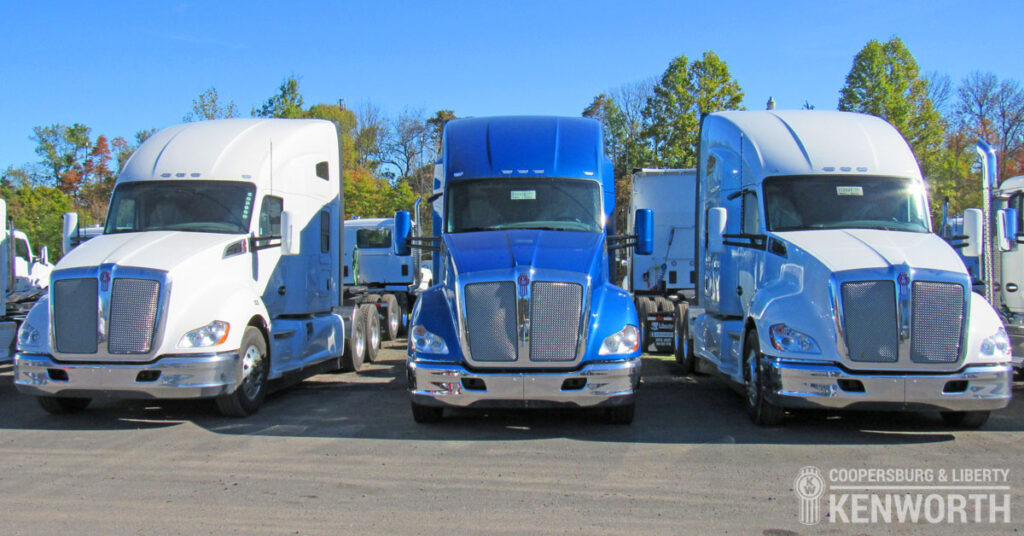 October 20, 2017 – Coopersburg, PA
More and more drivers are discovering the many virtues of the T680 Kenworth. It is rapidly becoming one of the most popular vehicles around according to top retailers Coopersburg & Liberty Kenworth. When comfort, quality, and cost-savings come together in a Class 8 trucks, it's no wonder it becomes a hit.
T680 Class 8 Trucks Design and Performance
Our goal with T680 is to create the most aerodynamic truck on the road, without any exceptions. Every inch was computer-designed and wind tunnel-tested to reduce drag and, therefore, reduce fuel usage. Lightweight components are utilized throughout (without sacrificing strength or safety), and a smart computer system helps advice the driver on fuel-efficient driving habits.
The result is a truck which can easily reduce on-road costs by 10% or more compared to similar Class 8 vehicles.
This is all done without compromising power. High-quality PACCAR or Cummins engines ensure the T680 has all the power necessary to get the job done. The entire truck shows off Kenworth's reputation for quality from top to bottom, with every aspect engineered for maximum performance.
Drivers will appreciate it too, with its highly-ergonomic cabin and five separate cab styles. From money-saving mid-roof sleepers to a luxurious 76″ high roof sleeper, there are options to fit every driver, style, and need. With a T680 Kenworth, a driver might never need a hotel again.
If you're curious about test-driving a T680 Kenworth, don't hesitate to drop by Coopersburg & Liberty Kenworth and experience it firsthand.
About Coopersburg & Liberty Kenworth
For over thirty years, Coopersburg & Liberty Kenworth has focused on bringing the best in trucks and service to the Northeast. Their two lots in Coopersburg, PA, and Swedesboro, NJ, offer more than forty acres of both new and used trucks along with a huge item shop, and on-site repair and customization facilities. The result is a one-stop-shop for both owner-operators and fleet managers that frequently draw in traffic from surrounding states looking for the best selection and values.
For more information or press inquiries, contact 1.866.306.5552 (PA) or 1.866.306.5553 (NJ).