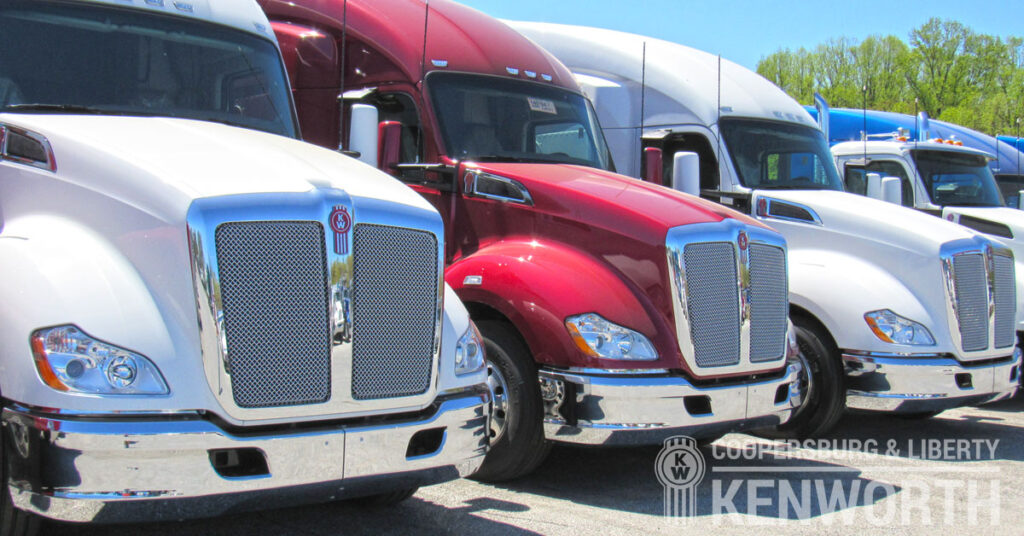 March 30, 2017 – Washington, DC
2017 has arrived, and that means the latest and greatest Kenworth T680 Trucks are available in the Washington, DC, area from Coopersburg & Liberty Kenworth. The new T680s are rolling out and making their way onto Coopersburg & Liberty Kenworth's two lots.
Kenworth T680 Trucks
The Kenworth T680 is well-known as the most cost-effective Class 8 truck on the road, packed with features that reduce weight, fuel usage, and maintenance downtime. The 2018 T680s keep up that tradition, pushing costs down even further with highly-optimized aerodynamics, new extra-lightweight components, and constantly-evolving smart onboard computer systems. A T680 can reduce on-road operating costs by up to 10% compared to other Class 8 trucks, as well as allowing for larger payloads thanks to their low weight.
This also represents an excellent opportunity for drivers or fleet operators to invest in the remaining stock of 2017 models. As new 2018 T680s arrive, it is necessary to make room for them. As such, prices on 2017 T680 models – as well as other great Kenworth models such as the T880 and the world-famous W900 – are lower than they have ever been before.
Coopersburg & Liberty Kenworth combine great selection, fantastic prices, and quality service, making them one of the top Kenworth dealers anywhere in the northeast. All who are looking to purchase The World's Best trucks are invited to visit either of Coopersburg & Liberty Kenworth's two lots to see the difference for themselves.
About Coopersburg & Liberty Kenworth
For more than thirty years, Coopersburg & Liberty Kenworth have been pushing the standard of excellence among truck dealerships. Since their beginning as a single lot outside Philadelphia, they have provided top-quality service while stocking The World's Best trucks as well as a wide selection of used vehicles of all makes and models. With two locations and over forty acres of total lot space, as well as an extensive parts shop and repair/body work facilities, Coopersburg & Liberty Kenworth is a magnet for drivers and fleet operators across the Northeast.
For more information, contact 1.866.306.5552 (PA) or 1.866.306.5553 (NJ) or visit https://www.coopskw.com/.