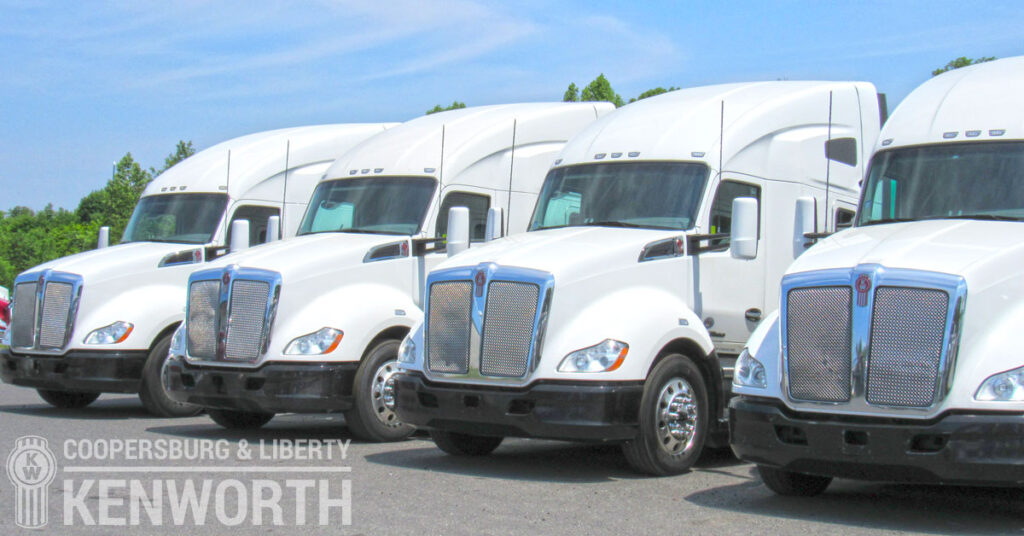 Need a Class-8 truck capable of hauling big loads across long distances? The first name that should come to mind is the legendary Kenworth T680. The heavy-duty fuel-efficient truck is perfect for a wide range of applications.
Even better, buying "The World's Best" doesn't have to break the bank! Coopersburg & Liberty Kenworth carries a full stock of pre-owned Kenworth T680 trucks. This can be a perfect way to upgrade your fleet to the trucks you need to get the job done on-time and under-budget. Plus, you will drive off the lot without paying new-truck prices!
The T680 Kenworth: Built for Low-Cost Hauls
Every aspect of the T680 was designed to allow it to handle heavy loads with maximum fuel efficiency, starting with the exceptional PACCAR MX-11 or MX-13 engine options. These low-weight compacted graphite iron engines offer significant fuel savings, while still bringing the torque and HP you need to do the job – up to 500HP and 1,850 foot-pounds.
Every inch of the truck design was built for maximum aerodynamics. The sloped hood is distinctive on the road, while decreasing wind resistance. The body parts are light-weight, but still strong enough to stand up to heavy use.
A Truck Your Drivers Will Love
Whether you select the day cab or sleeper options, your driver will find the T680 to be one of the smoothest rides they've ever experienced. Kenworth puts a priority on driver comfort and convenience. When designing the T680, Kenworth consulted more than 800 actual drivers to ensure it was exactly what they needed.
Smart driver performance technologies act as virtual co-pilots, monitoring their driving and providing suggestions to improve fuel efficiency. Satellite-backed NAV systems ensure they can never get lost, and always know their timeframes. Super-comfortable interiors can include a full range of options, including 2nd bunk bed, television, or a built-in fridge for maximum morale boosts on long hauls.
In short, the T680 downright pampers your drivers, and will drive down your per-load costs with its superior fuel efficiency.
Used Kenworth Trucks save You Tens of Thousands
Coopersburg & Liberty Kenworth has one of the most extensive selections of new and used Kenworth trucks available. Extended warranties and financing are available, to make the purchase that much easier.
In the event it's time to retire old equipment, we'll happily take it off your hands at highly competitive rates. All brands are welcome for trade-in, not just Kenworth!
Whether you're looking to buy or sell, contact us for full details!