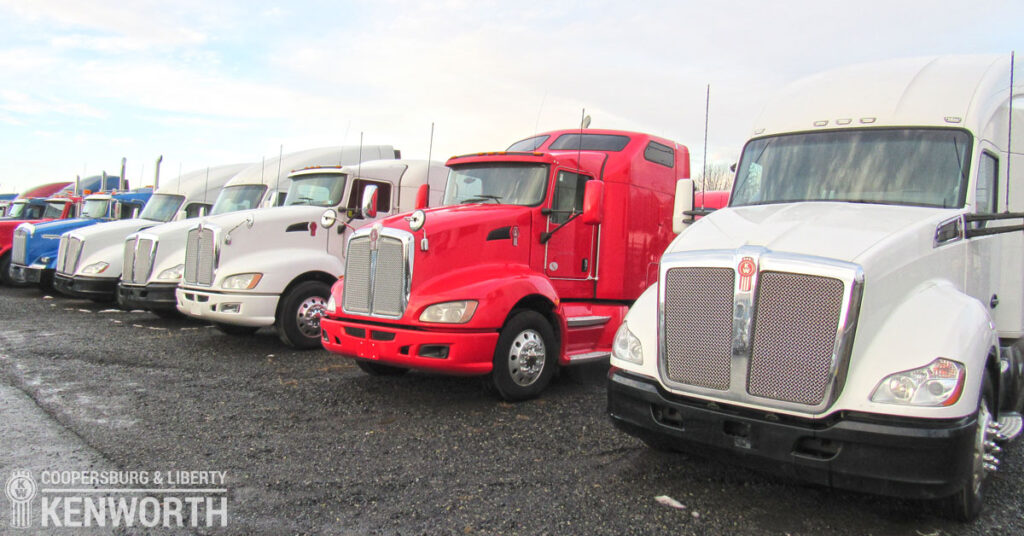 For thirty years, Coopersburg & Liberty Kenworth has been building itself into one of the Northeast's top options in used Kenworth vehicles for sale, along with plenty of other vehicles. There's no secret to our success. All along, we've been dedicated to providing great trucks, great service, and great support for all our customers.
As a result, we've become a major destination in Pennsylvania and New Jersey for fleet managers, civil transportation coordinators, and independent owner-operators. Few other truck lots offer the same range of products and services as Coopersburg & Liberty Kenworth.
Why Look for Used Kenworth Vehicles for Sale from Coopersburg & Liberty Kenworth
Great Selection
Between our two locations, we have forty acres of trucks for you to browse – both used and new. These span all ranges of pricing and mileage, and offers a great opportunity to find money-saving deals. We don't only carry Kenworth's either! Our used lot has all the major brands available.
Trade-In Options
We'll give you a fair trade-in price on just about any still-running truck you want to bring in, regardless of make or model. We'll even take trade-ins towards other used vehicles. There's no better way to cut costs on upgrading your fleet to newer models, or adding an extra vehicle or two for cheap.
Huge Parts Selection
Our parts store is an attraction by itself, with thousands of both first- and third-party parts, add-ons, accessories, and everything else. Whether you're just stopping by to add a bit to your existing rig, or looking to fully customize a new truck before driving it off the lot, we have everything you could be looking for.
We also keep a selection of used parts around as well, which are perfect for quick repairs/replacements.
Full Service Repair Shop
Each of our locations has a dedicated repair and body work shop, capable of handling a large number of trucks at once. Along with being able to take care of all standard repairs, we also have a state-of-the-art computerized paint facility which can quickly give your truck a great makeover.
Have places to be? We'll store your truck for free for up to thirty days after repairs are done, so you can pick it up at your convenience.
Coopersburg & Liberty Kenworth wants to earn your business, with our vast selection of used Kenworth vehicles for sale. Come see our selection for yourself!