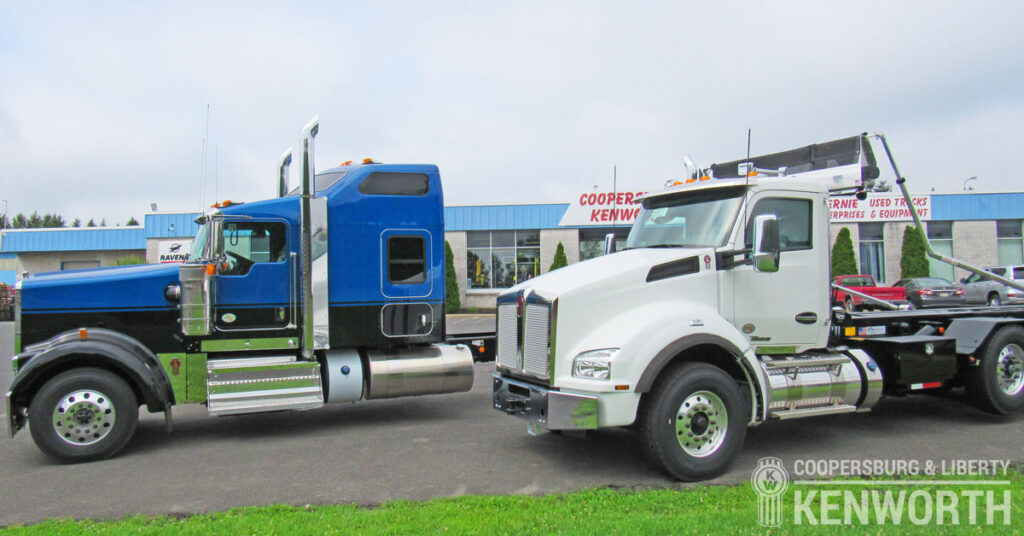 July 15, 2017 – Swedesboro, NJ
The two massive Coopersburg & Liberty Kenworth truck lots are currently full of great deals. This means it's easier than ever to get "The World's Best" in trucks, backed up by the superior service Coopersburg & Liberty is widely known for.
Coopersburg & Liberty currently features great 2018 tractor trailer trucks like:
Kenworth T880 One of the best all-around dump trucks on the road. Combining superior driver comfort with excellent engineering to create a jack-of-all-trades that excels at nearly every task.
Kenworth T680 Widely recognized as the most fuel-efficient Class 8 truck available. The 2018 model packs in even more optimizations and smart computer systems to deliver the best possible on-road ROI.
Kenworth W900 One of the most iconic full-sized tractor trailer trucks for sale for over fifty years and the end goal of many independent drivers. The 2018 W900s are better than ever, effortlessly blending the old and new.
Kenworth C500 The massive go-anywhere monster is designed to effortlessly handle off-road scenarios too extreme for lesser vehicles. It also still brings Kenworth comfort and convenience to drivers.
All these trucks and more are currently available in their 2018 and earlier models from Coopersburg & Liberty Kenworth. Their lot also features a huge parts store and a service facility. We guarantee every customer gets the perfect truck for their job.
About Coopersburg & Liberty Kenworth
Few truck dealers in the northeast have the same stellar reputation as Coopersburg & Liberty Kenworth. For decades, Coopersburg & Liberty Kenworth has grown in size. Now with two huge lots comprising over 40 acres of tractor trailer trucks for sale, along with specialty vehicles and a massive 10,000+ SKU parts and accessories store. Visitors get impeccable service from Coopersburg & Liberty Kenworth, leading them to be one of the top draws in several states for those seeking the best possible truck-purchasing experience.
For more information, contact 1.866.306.5552 (PA) or 1.866.306.5553 (NJ).