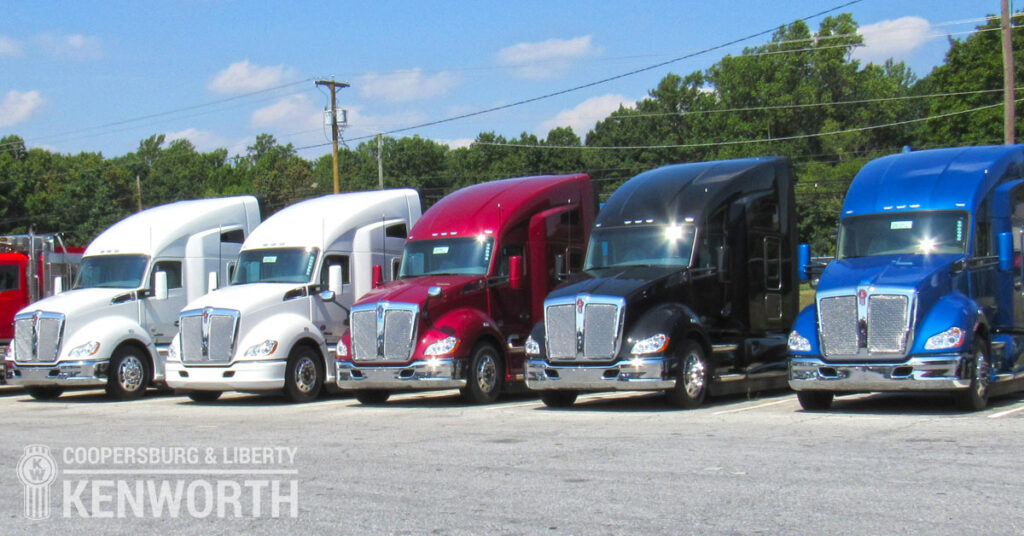 We keep plenty of Kenworth T680 trucks for sale in-stock here at Coopersburg & Liberty Kenworth, because they're an incredibly popular model. It's easy to see why – they're reasonably-priced, powerful, and include a wide range of special features all aimed at increasing fuel economy. A Kenworth T680 can easily achieve 10% fuel savings, or even greater, compared to other Class 8 trucks on the road.
However, another reason for their popularity – especially for independent owner-operators – is the extra mile Kenworth goes in making them comfortable and easy to drive. A Kenworth T680 is extremely driver-friendly, and that means a lot on long hauls!
Comfortable Weight-Conscious Cab Options
While small day cab options are available, the T680 really shines when it comes to its range of sleeper cabs. Our Kenworth T680 trucks for sale can come with a low-profile 40″ sleeper with great aerodynamics, a luxurious 76″ high-roof sleeper that's like a hotel room on wheels, or anything in between.
For the larger cabs, drivers can include all the amenities as well. There's room for a refrigerator, sit-down table, and television. The high-roof models offer a choice between extra storage or a second pull-down bunk bed for team drivers. Drivers can rest in comfort in a T680.
Seats Engineered for the Long Road Ahead
Both the driver and passenger seats in the T680 are specially sculpted for extra comfort. They offer superior lower-back and lateral support to prevent fatigue on long days, as well as including options for heating and cooling systems within the seat. No matter the temperature outside, a T680 driver is completely comfortable.
They also have independent suspension systems, allowing each seat to float with minimal jarring, even on bumpy roads. Weight compensation systems allow drivers to swap out with a minimum of re-adjustment, minimizing downtime.
A Computerized Co-Pilot
The Kenworth T680 also looks to make the drive as easy as possible for drivers. An onboard computer monitors dozens of systems throughout the truck, offering suggestions on fuel-efficient driving as well as warning of trouble long before it becomes a problem. Models can also include a state-of-the-art GPS-aided cruise control system, which predicts changes in topography and adjusts itself to match.
The T680 can't drive itself (yet?), but it's got the next best thing.
Shop Coopersburg & Liberty Kenworth
Coopersburg & Liberty Kenworth has a full range of new and used Kenworth T680 trucks for sale. Contact us today for more details!