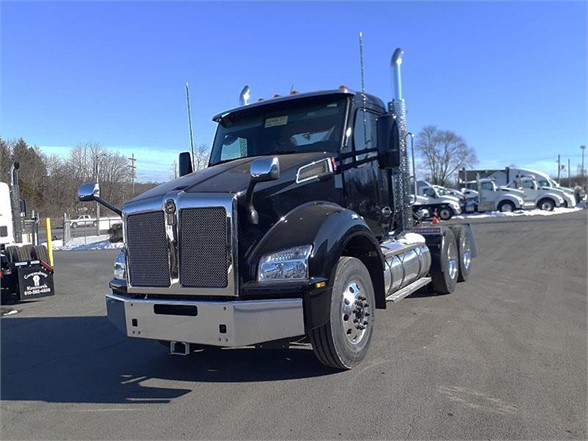 The original T800 built a well-deserved reputation as a versatile, reliable workhorse. Kenworth has worked incredibly hard to continue and improve this reputation. Based on the popularity of the Kenworth T880, it is doing the job admirably.
We will take a quick look at some of the biggest improvements from the T800 and the T880!
Flexibility
As an all-around work horse, the T880 can be configured in a number of vocational and long haul configurations. If you've got a fleet that covers a lot of different roles, the T880 can be configured to address nearly all of them. You can streamline your parts needs and PM programs. The T880 comes standard with the new Paccar MX13 engine. However, trucks can be specified with a Cummins ISX if needed. Of course you can specify a wide variety of rears, transmissions and axles.
Visibility
One of the biggest improvements that drivers will appreciate is the wider and longer cab with better visibility! The cab is nearly 8 inches wider than the T800. It comes with a wide one-piece windshield that allows for increased visibility over the shorter and narrower hood. Speaking of the hood, the hood is sectioned into five pieces allowing you to change just the piece that has been damaged rather than the entire hood. This can save you a ton of time and money to service the routine damage that occurs in vocational uses. For example rather than replace an entire hood just replace the fender that got damaged!
Since the T880 shares the same cab and interior with the T680 you get the extra leg room and comfort with a better turning radius and more visibility with that 2.5 inch shorter hood. The instrument panel has been streamlined to be one sweeping surface rather than the two panels of the T800. The display is logically laid out and easy to read, if you've been driving a T800 or a T680 you will feel right at home in the cab. The road noise in the cab has been reduced considerably and the windows on the doors and rearview mirrors offer a more comprehensive view that will aid your drivers during drop and pick operations.
Drive
The T880 rides smoother and has more consistent power delivery than the T800 making those long days in the seat more productive and less frustrating.
If you are looking for a versatile, reliable truck that is also comfortable and looks great give the T880 a drive!
The Kenworth T880 Vocational Truck was recently named 2015 Truck of the Year by American Truck Dealers (ATD). Click the links below to read more about it.
Posted: 3/6/2015