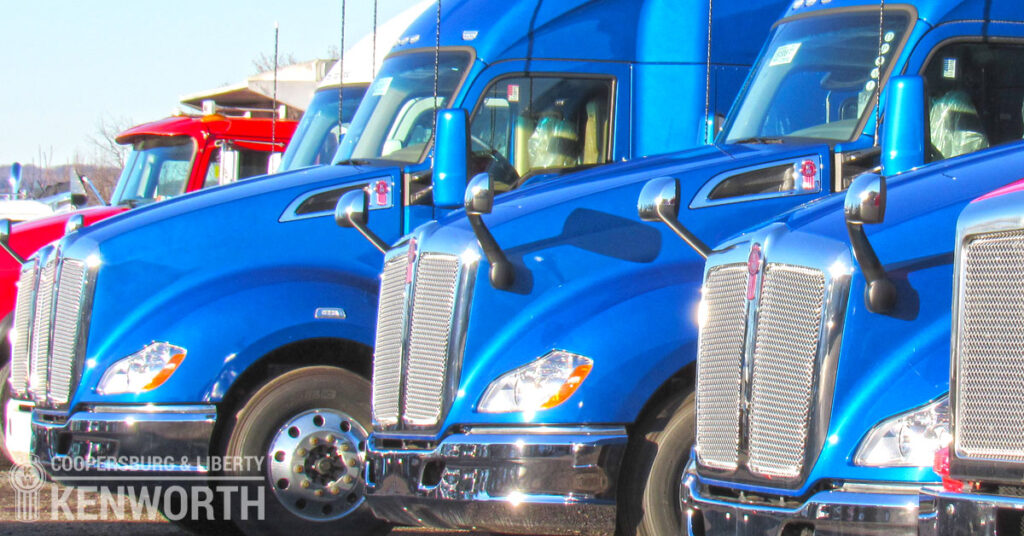 March 20, 2017 – Coopersburg, PA
Both owner-operators and fleet managers are looking for the great Kenworth T680 in the Northeast. But they aren't always easy to come by. Many truck lots in the Northeast are small, with a limited selection. Otherwise, they have to order from the factory, adding weeks to delivery time.
Looking for a Kenworth? Come to Coopersburg & Liberty Kenworth
However, there is another option. Coopersburg & Liberty Kenworth in nearby Coopersburg, PA, boasts a huge lot full of both new and used Kenworth T680 vehicles. Along with all the accessories a buyer might need. A little bit of a drive can reward buyers with a huge number of new purchasing options.
The two Coopersburg & Liberty Kenworth lots have forty acres worth of trucks to explore, including dozens of T680s available in all standard configurations which are ready to drive off the lot. From day cabs to sleepers, and with a great selection of trailers as well, Coopersburg & Liberty has something for every buyer in-stock.
For more customization, they also stock more than 10,000 parts and accessories which can all be installed on-site at their state-of-the-art repair and body work facility. Out-of-state customers will also appreciate that Coopersburg & Liberty Kenworth's body shop will store a truck being worked on for up to thirty days at no additional charge for convenient pickup.
Coopersburg & Liberty Kenworth is a top destination for truck-buyers in New York and across the region. Their selection and service is simply unmatched.
About Coopersburg & Liberty Kenworth
It's no wonder that Coopersburg & Liberty Kenworth is one of the most popular destinations for both fleet managers and independent owner-operators throughout the Northeast. With more than thirty years' experience selling and servicing great Kenworth vehicles, and two huge lots in Coopersburg, PA, and Swedesboro, NJ, Coopersburg & Liberty can offer far more than most local truck dealers. They feature extensive lineups of vehicles, a huge parts and accessory store, and on-site repair services.
To learn more, please visit https://www.coopskw.com or contact 1.866.306.5552 (PA) or 1.866.306.5553 (NJ). Visit our locations in Coopersburg, PA and Swedesboro, NJ.